If you're looking for a light, low-calorie dinner or lunch that is easy to make, this is the recipe for you!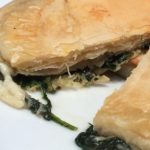 SPINACH AND GOATS CHEESE PARCELS
Ingredients
120G

large leaf young spinach

4

sheets of square filo pastry

50g

goats cheese
Seasoning
Salt to taste

Black pepper to taste

Garlic powder to taste
Instructions
Preheat your oven to 180C / 350F/Gas mark 4.

Wilt your spinach in a frying pan. (This is done by throwing it into a pan with no oil or water. It will start to shrink).

Use 2 sheets of Filo pastry per parcel (Double them). Spread them out onto a surface.

Beat an egg in a bowl to create an egg wash.

Crumble the goat's cheese onto the two doubled sheets. (Half of the quantity for each).

Add the spinach onto the goat's cheese on the two doubled sheets. (Half of the quantity on each parcel).

Brush the edges of the filo pastry with the egg wash.

Fold the edges into the centre to create a box-like shape. Brush the egg wash onto any extra edges to lay them down.

Lay out some foil onto your baking tray. Spray your baking tray with a cooking spray.

Put the parcels on the baking tray.

Leave in the oven for 15 minutes or until golden brown. Enjoy!
---
Bry xo