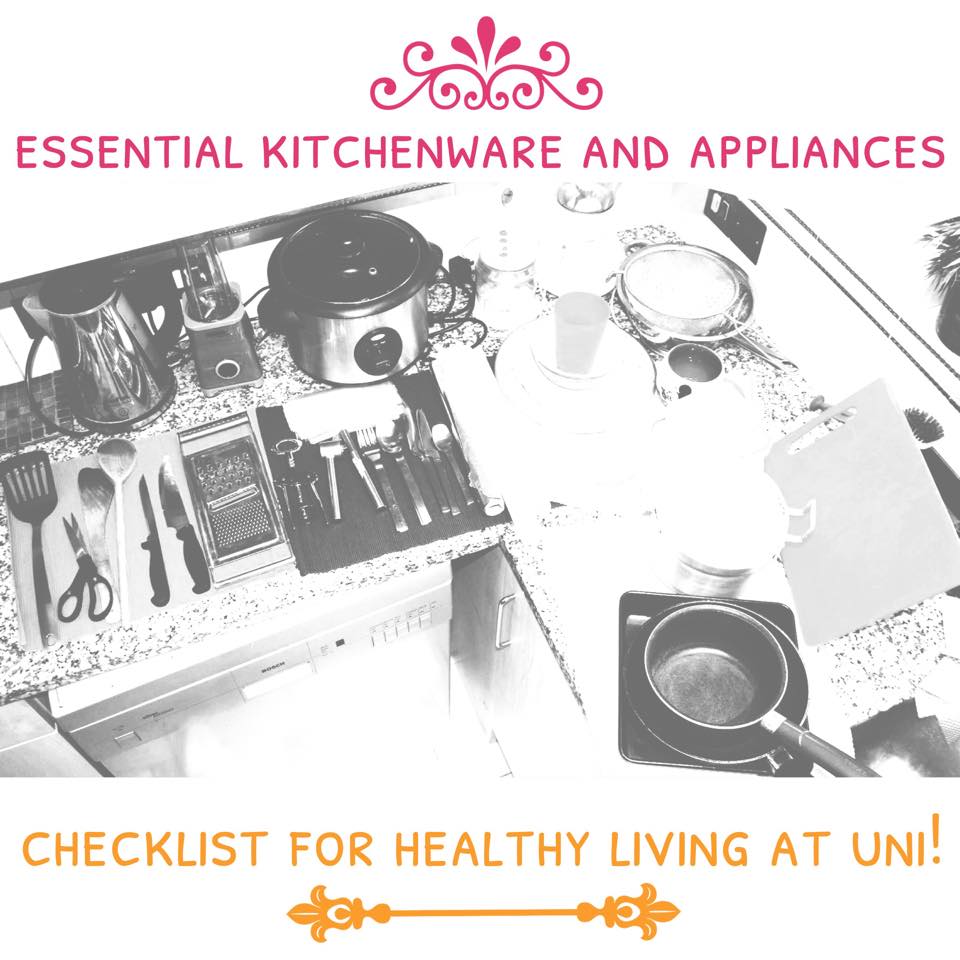 If you are going to uni for the first time or going back to uni, this is the post for you! A lot of students are clueless about what to buy before moving into self-catered student halls or into private student accommodation. This checklist will not only be a guide for all of you, but it will tell you why these items are essential for healthy living. Not to mention, a lot of these items can be bought relatively cheaply at any local container store, grocery store or market!
---
Kitchenware 
◊For eating!- Knives, forks, spoons, teaspoons, mugs, cups, glasses or plastic cups, plates, bowls
◊For cooking with!- Spatula, wooden spoon, wooden spatula, ladle
◊ Cooking helpers to make life easier!- Kitchen scissors, garlic crusher, grater, knives- 1 large and 1 small, chopping board, mixing bowl, sieve, colander (essential for making the most common student dish- pasta!)
◊ To cook or bake in!- 1 small saucepan, 1 large saucepan, 1 non-stick frying pan, 1 baking tray
◊ For storage or wrapping!- tupperware, foil, grease-proof paper, cling film, freezer bags
---
Appliances
◊ For your green tea!- A kettle
◊ For your smoothies and juices!- A smoothie maker/blender
◊ An essential for my fellow African students!- A rice cooker
◊ Simply for blending stuff!- A small food processor or a blender
◊ For a quick breakfast!- A toaster
---
Optional/extras
◊ For those nights out and in moderation!- Wine glasses, Shot glasses, and a cork screw
◊ For a liquid lunch!- A soup/hand-held blender
◊ For convenient meals!- A sandwich maker or a small grill
◊ For lazy (sweet) potato lovers!- A potato masher, a potato peeler
◊ For an oriental twist! – Chop sticks
---
Hope you found this post useful!! Subscribe to my blog to keep up-to-date with the back-to-uni series and more posts!
Bry xo