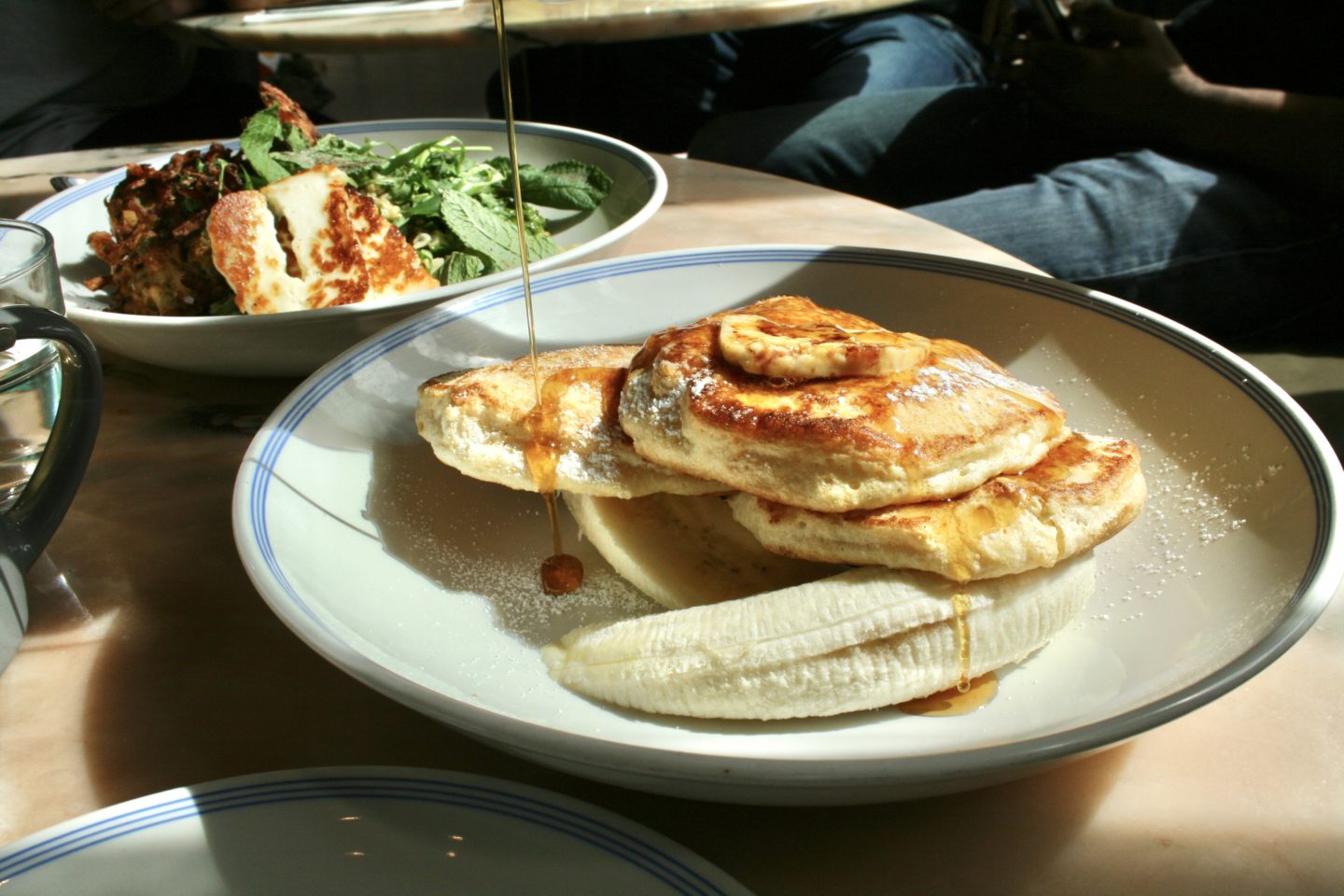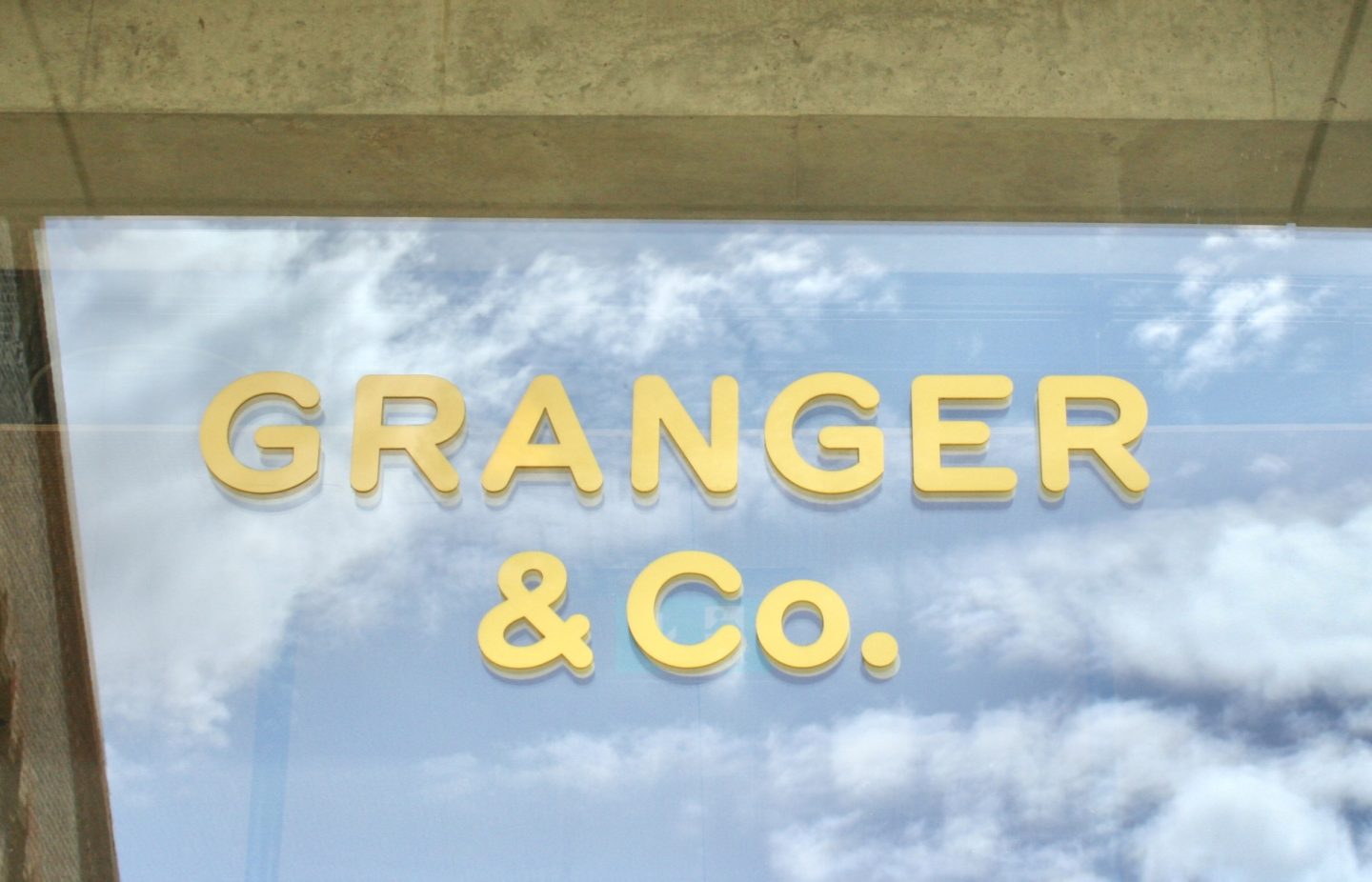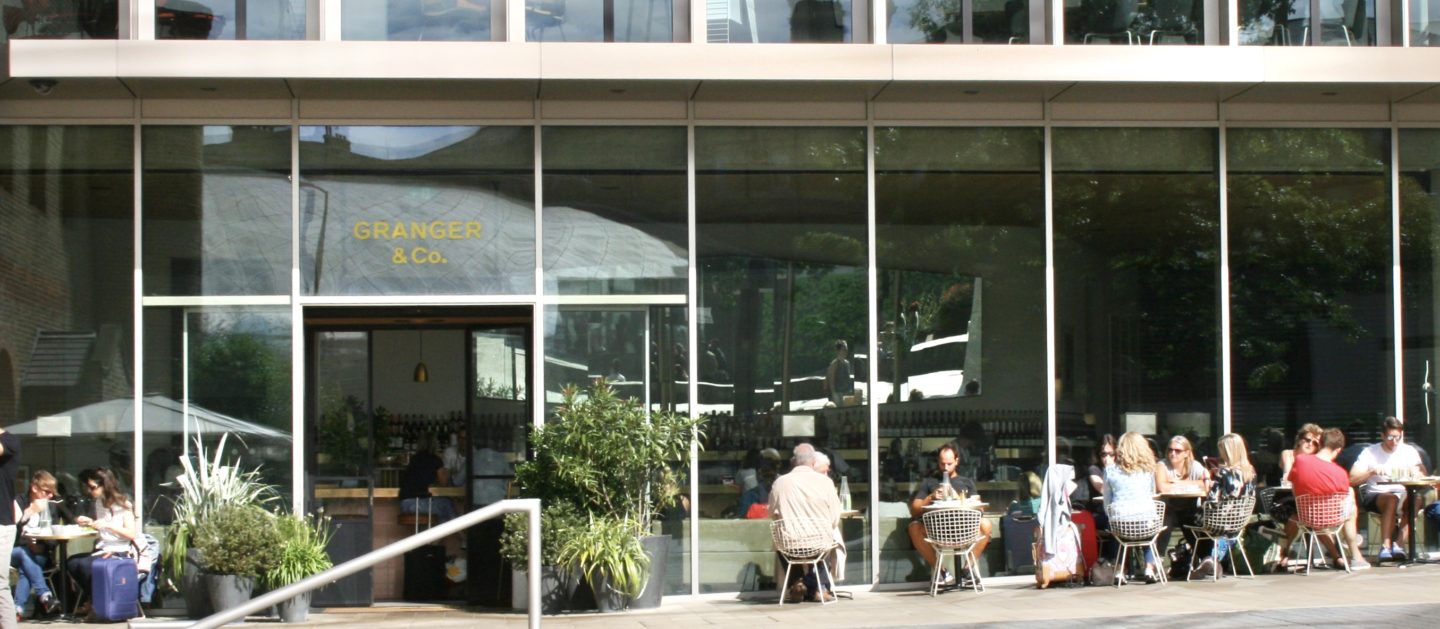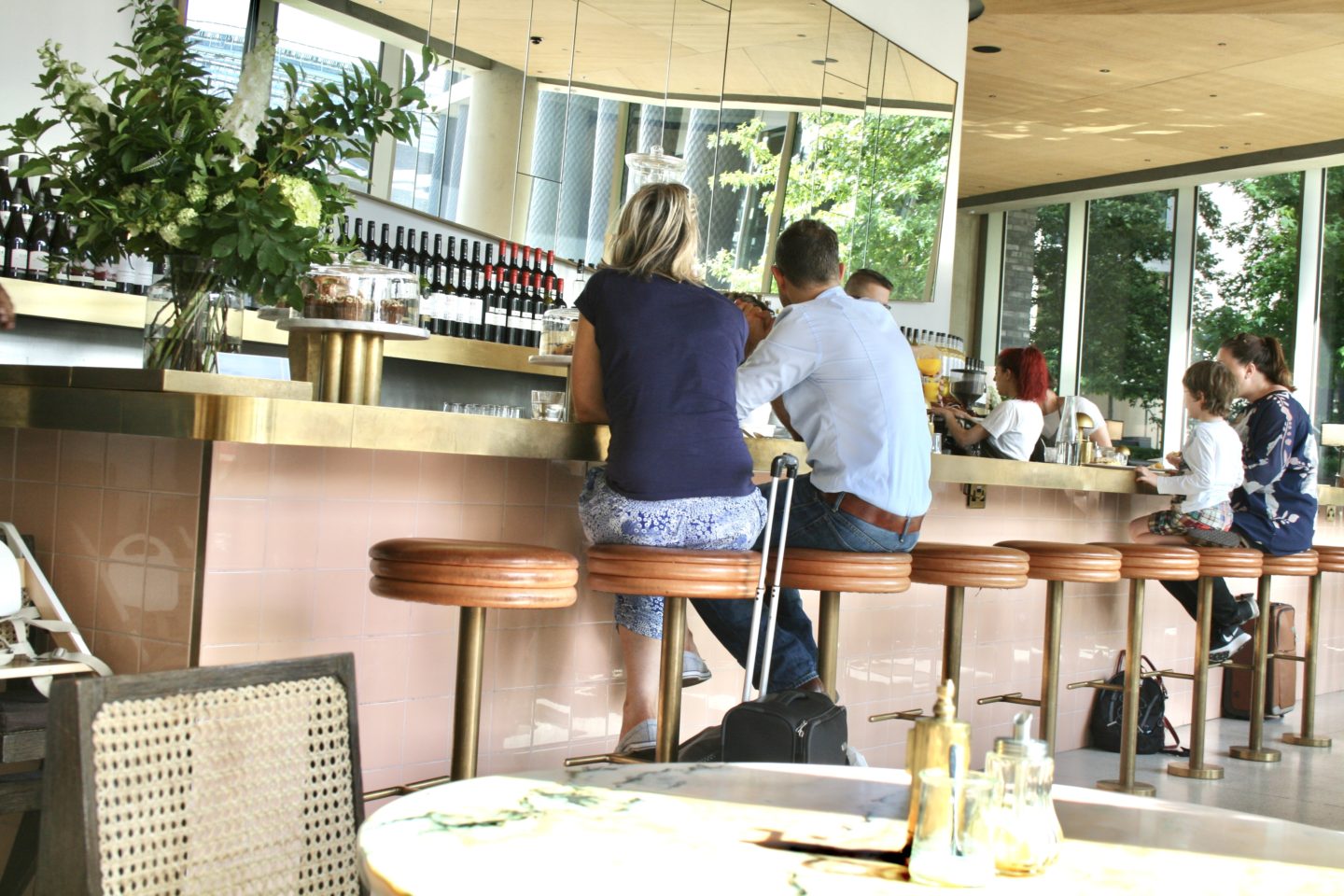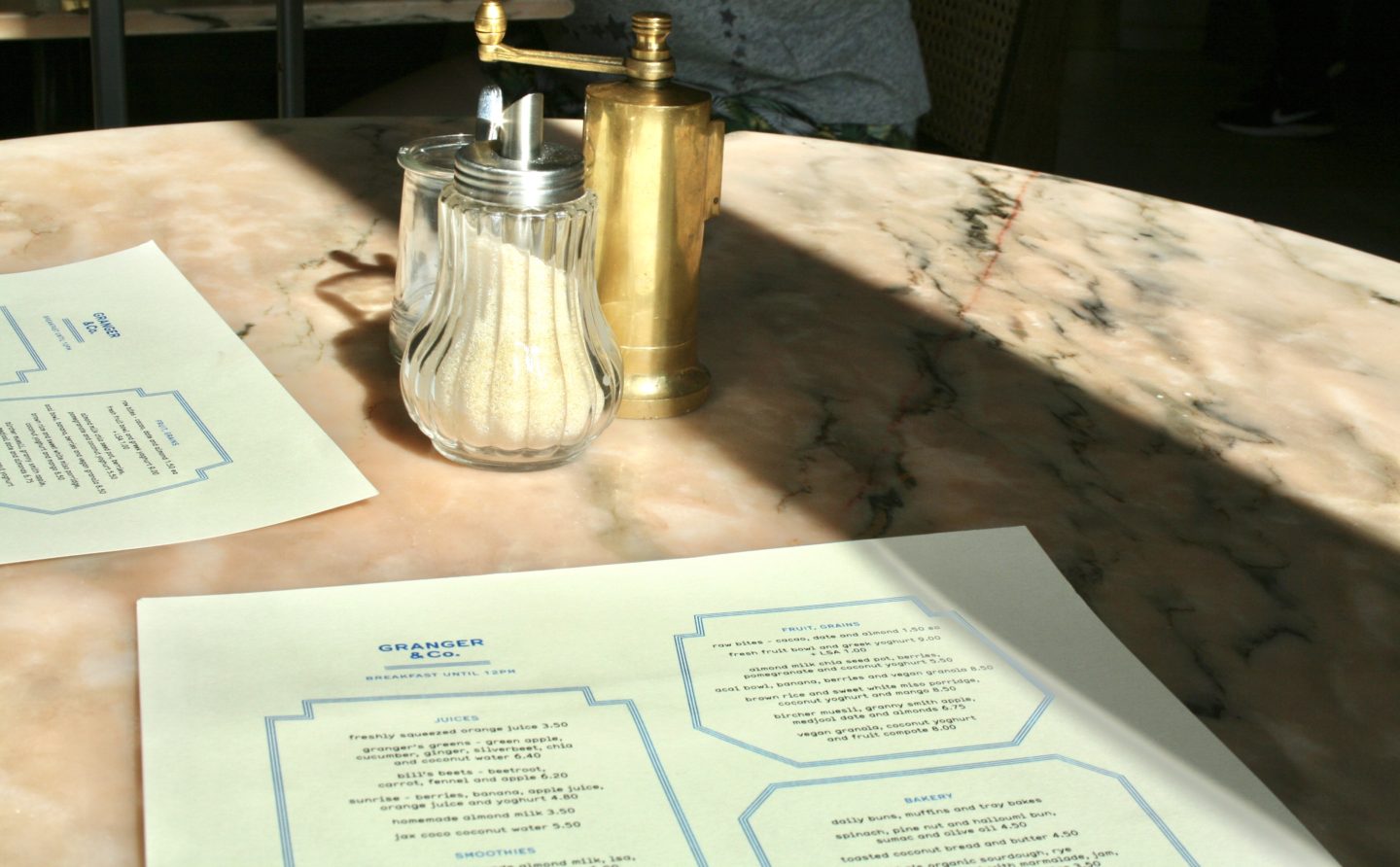 Welcome to the first post in my new Come Eat Healthy With Me series where I review some tasty and healthy eats around London and beyond! The first on my exciting summer schedule is Granger & Co.. I had heard of Granger & Co. through my sister, some friends and of course through Instagram! As one of London's many up-and-coming healthy restaurants, Granger & Co. is blazing new paths through its unique and delicious flavour combinations which make healthy eating feel less like a chore!
I visited the restaurant in Kings Cross mainly due to convenience but other branches include Clerkenwell and the ever-famous Notting Hill Branch. The atmosphere was bright due to the large windows that bordered the restaurant and I loved the retro, gold interior. The prices vary per dish with mains ranging from £5.50 to £18.50 so there is something there for every budget! Not to mention, it is open for breakfast, lunch and dinner but honestly, it's a perfect option for brunch! 
I am yet to exhaust the menu but trust me, I am slowly making my way there! For now, continue reading on to view the delicious dishes I've tried so far and which ones I was not entirely fond of. Without further ado, come eat healthy with me at Granger and Co.!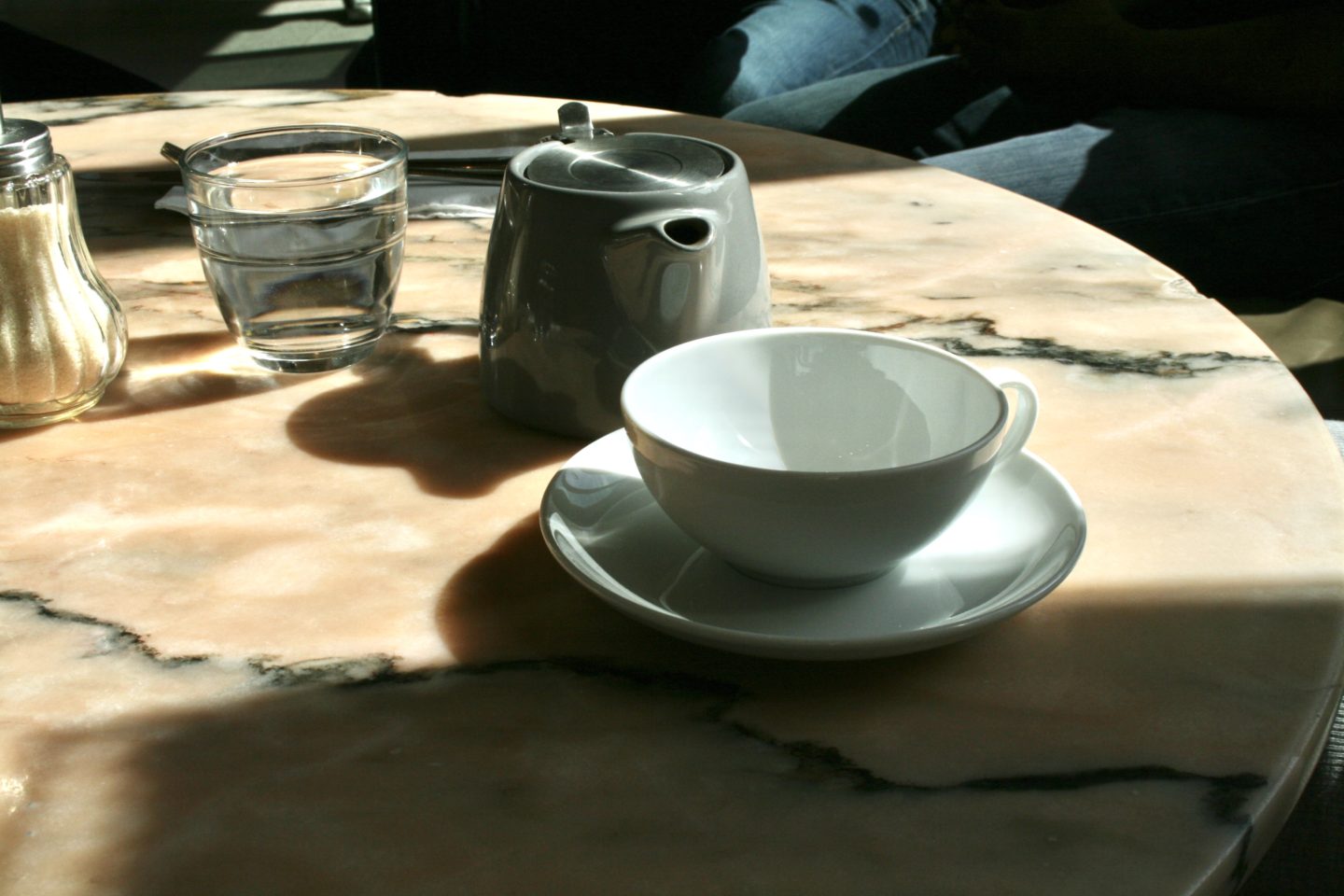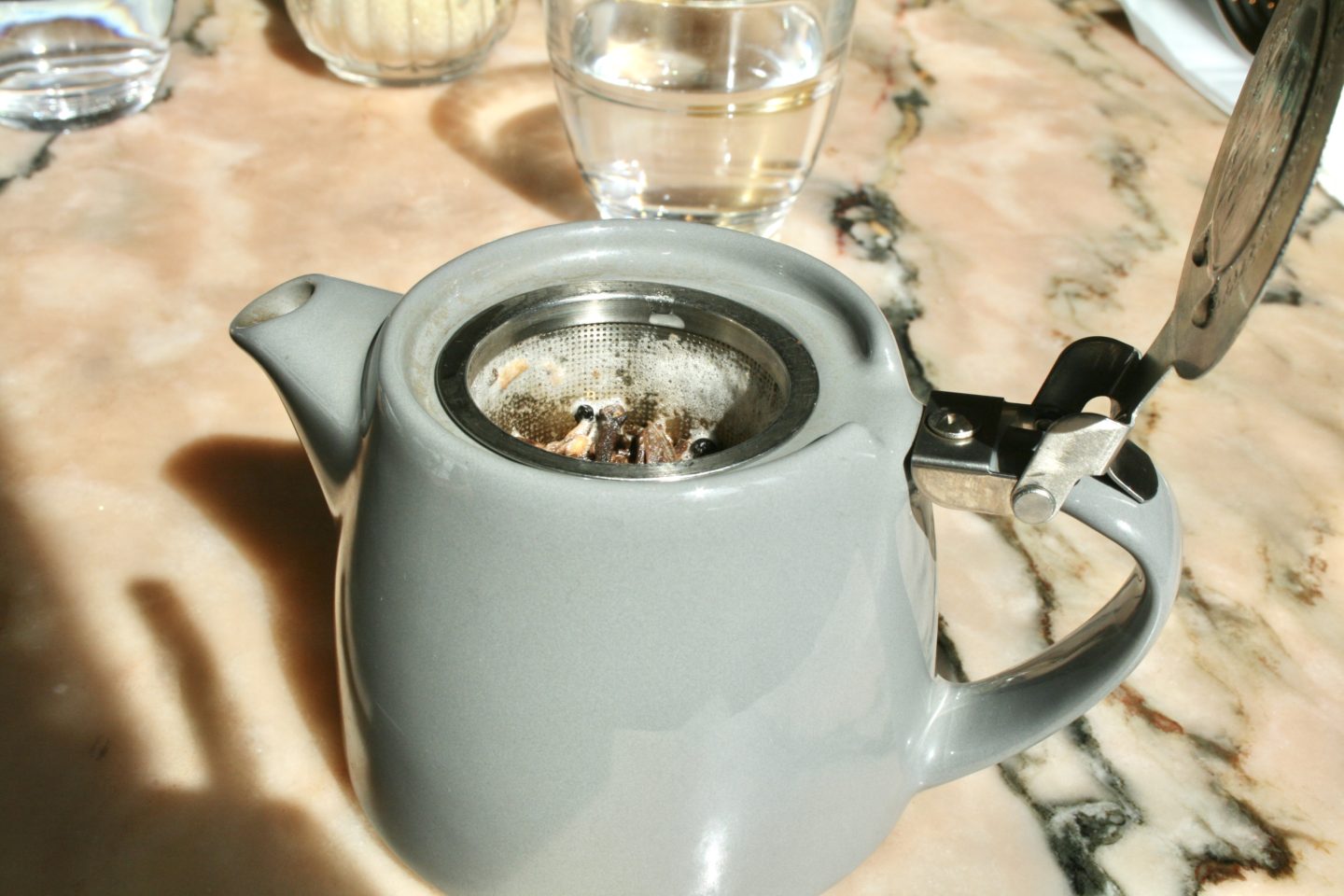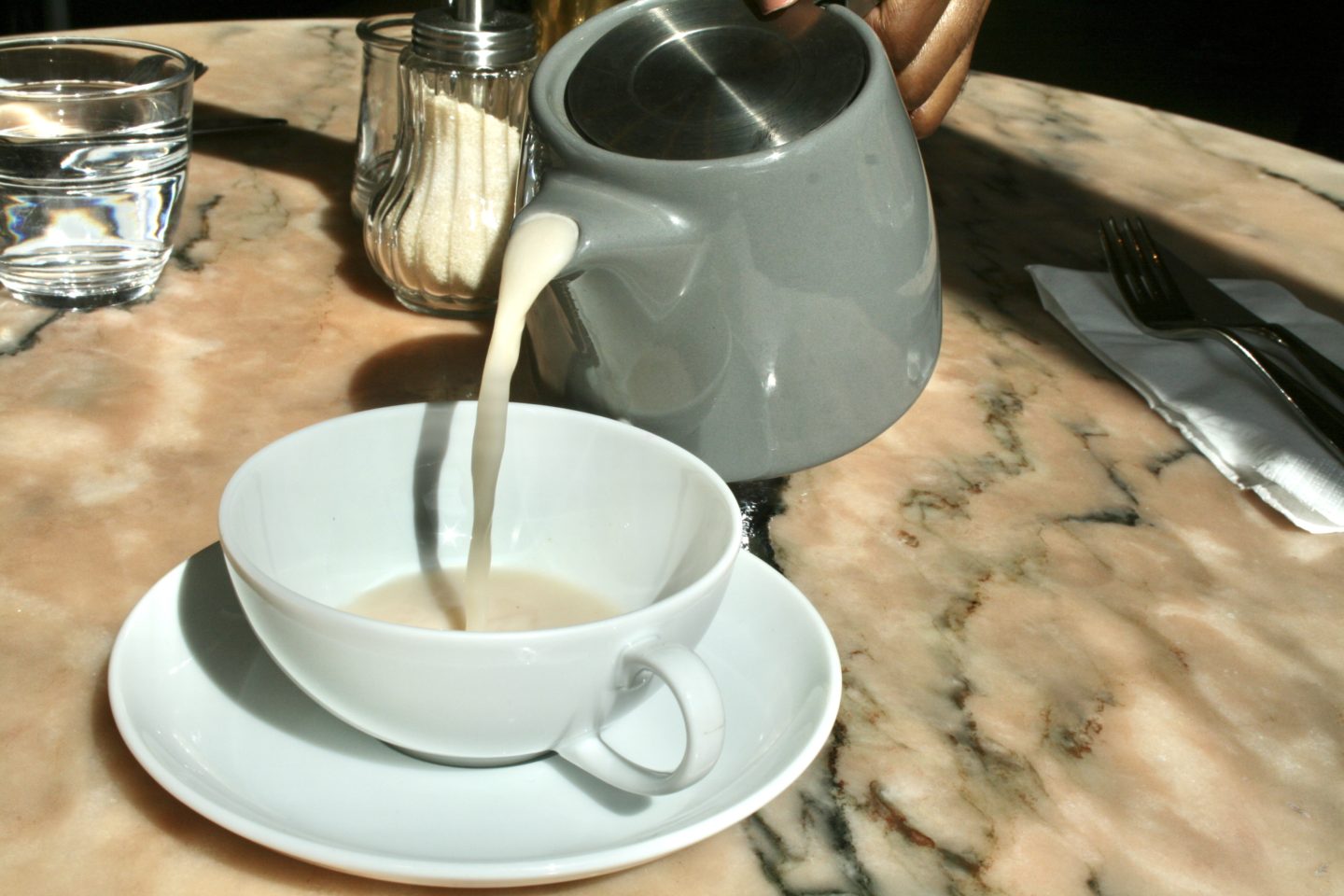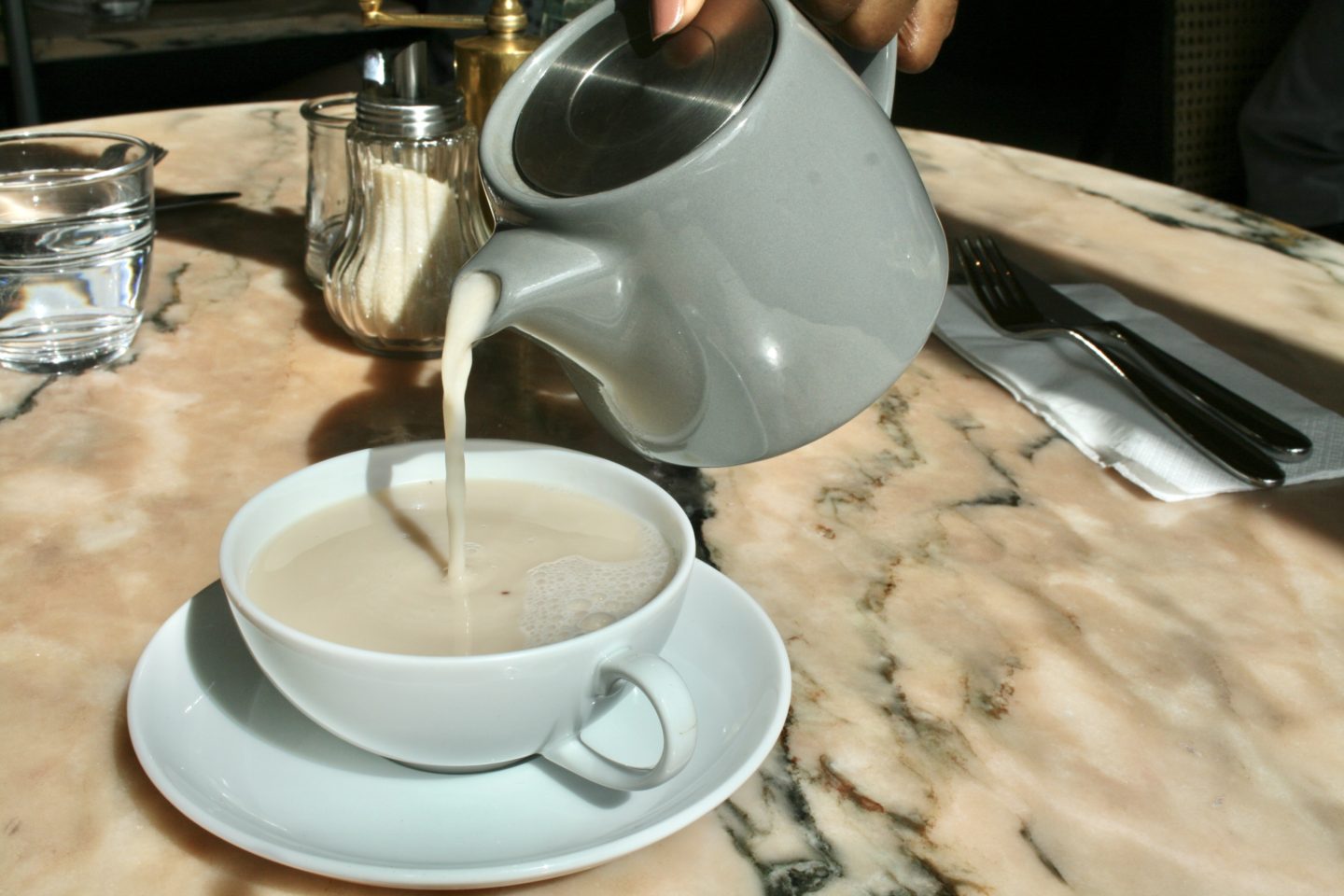 Spiced along milk chai latte
---
Firstly, the Insta famous ricotta hotcakes with honeycomb butter and banana. Although this was not the healthiest thing on the menu, I could not pass it by and boy was it a great decision! The portion was definitely worth the price and I would recommend sharing a portion with a friend if you don't have much of an appetite.
I assumed that the hotcakes would be similar to pancakes but the texture was more like bread and butter pudding with a crispy outer shell. I loved that you could see the bits of ricotta in each bite and this made it feel very natural and fresh.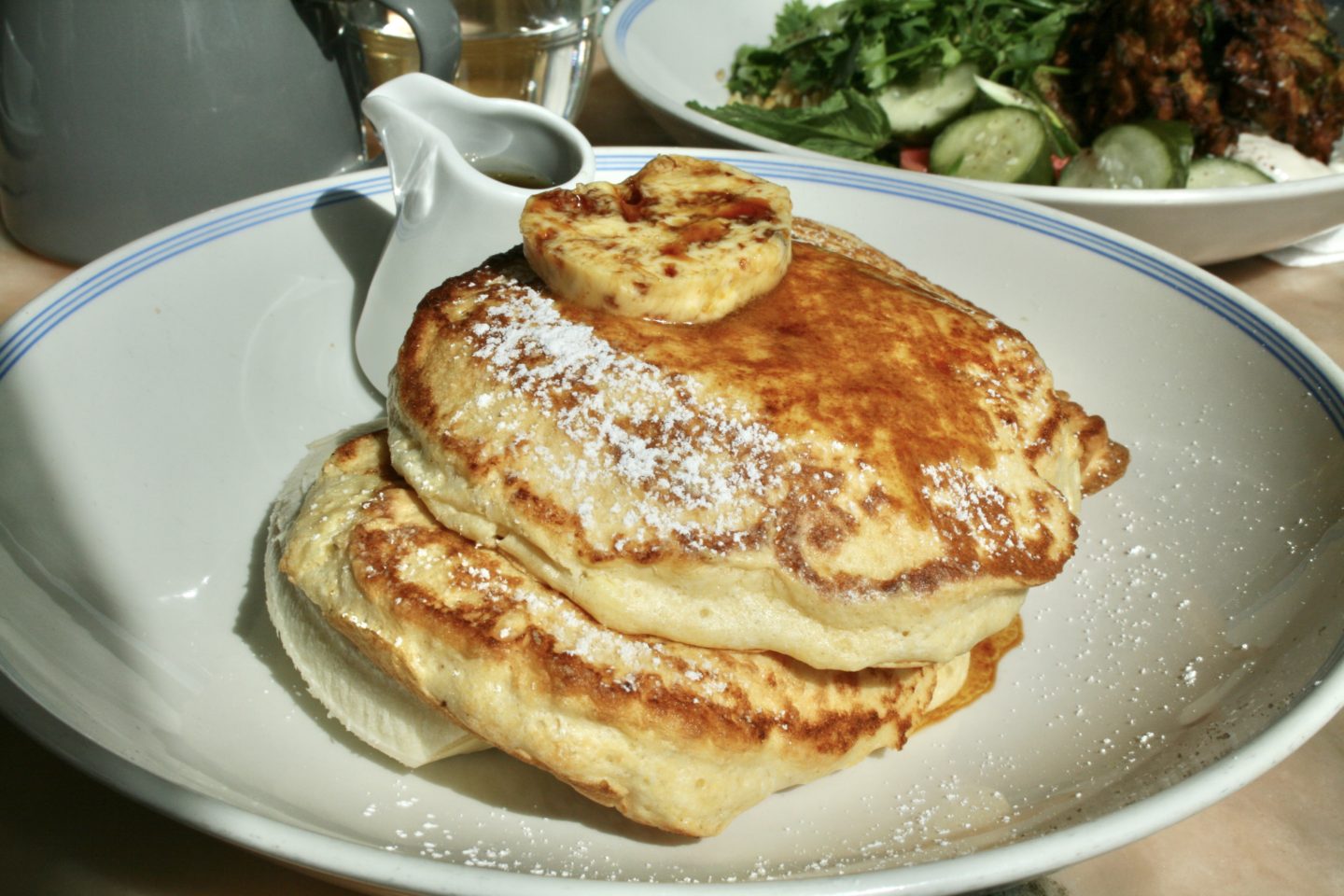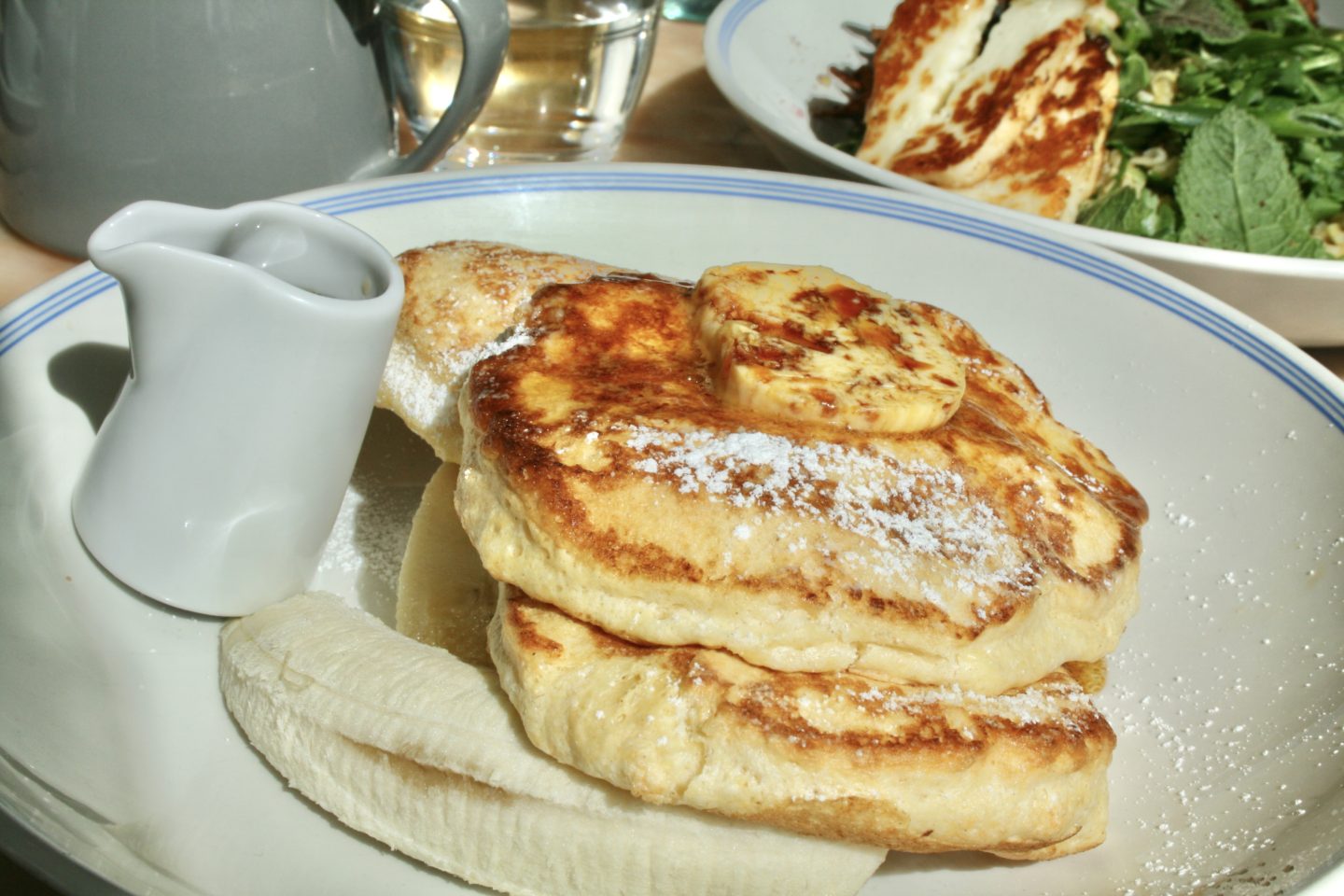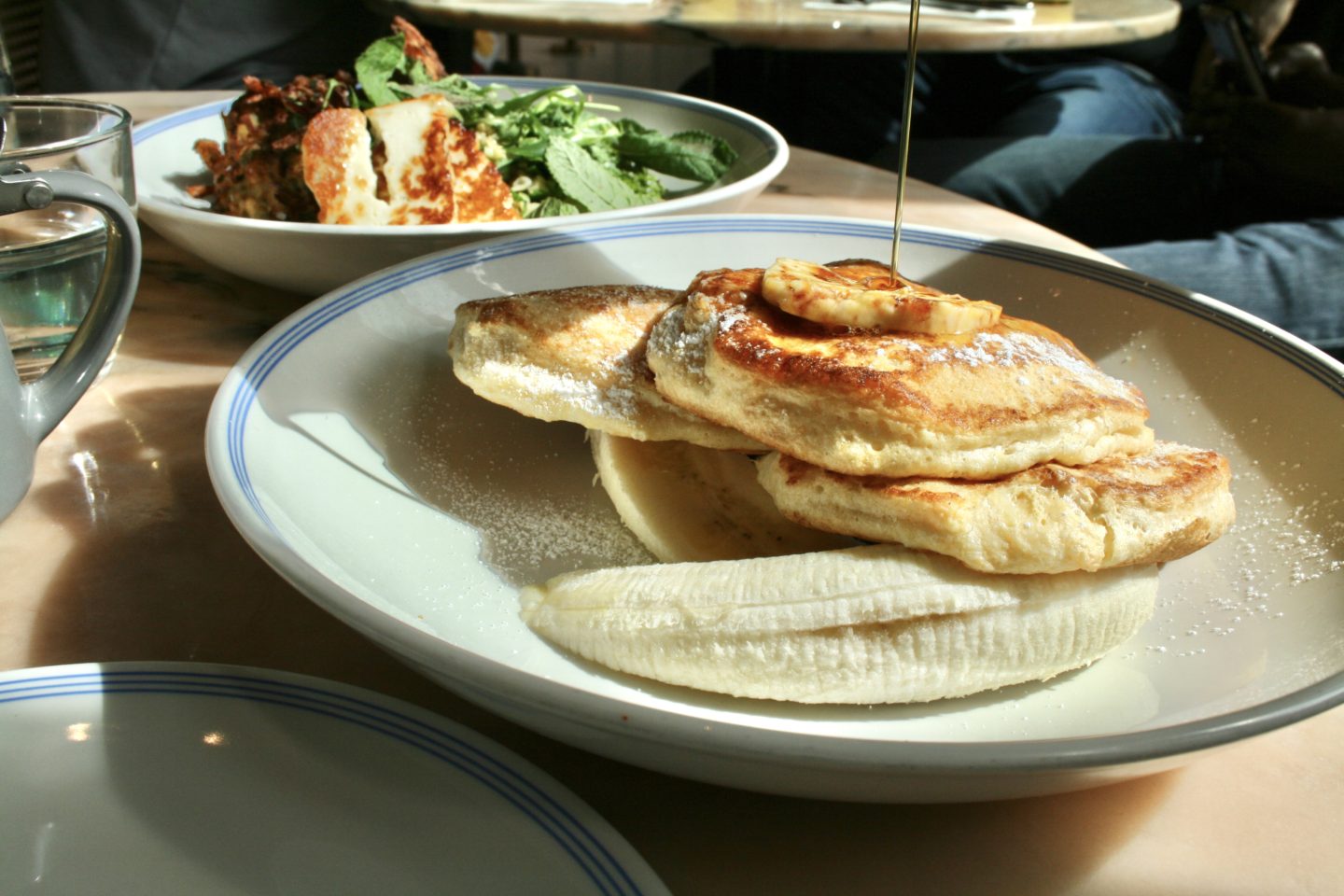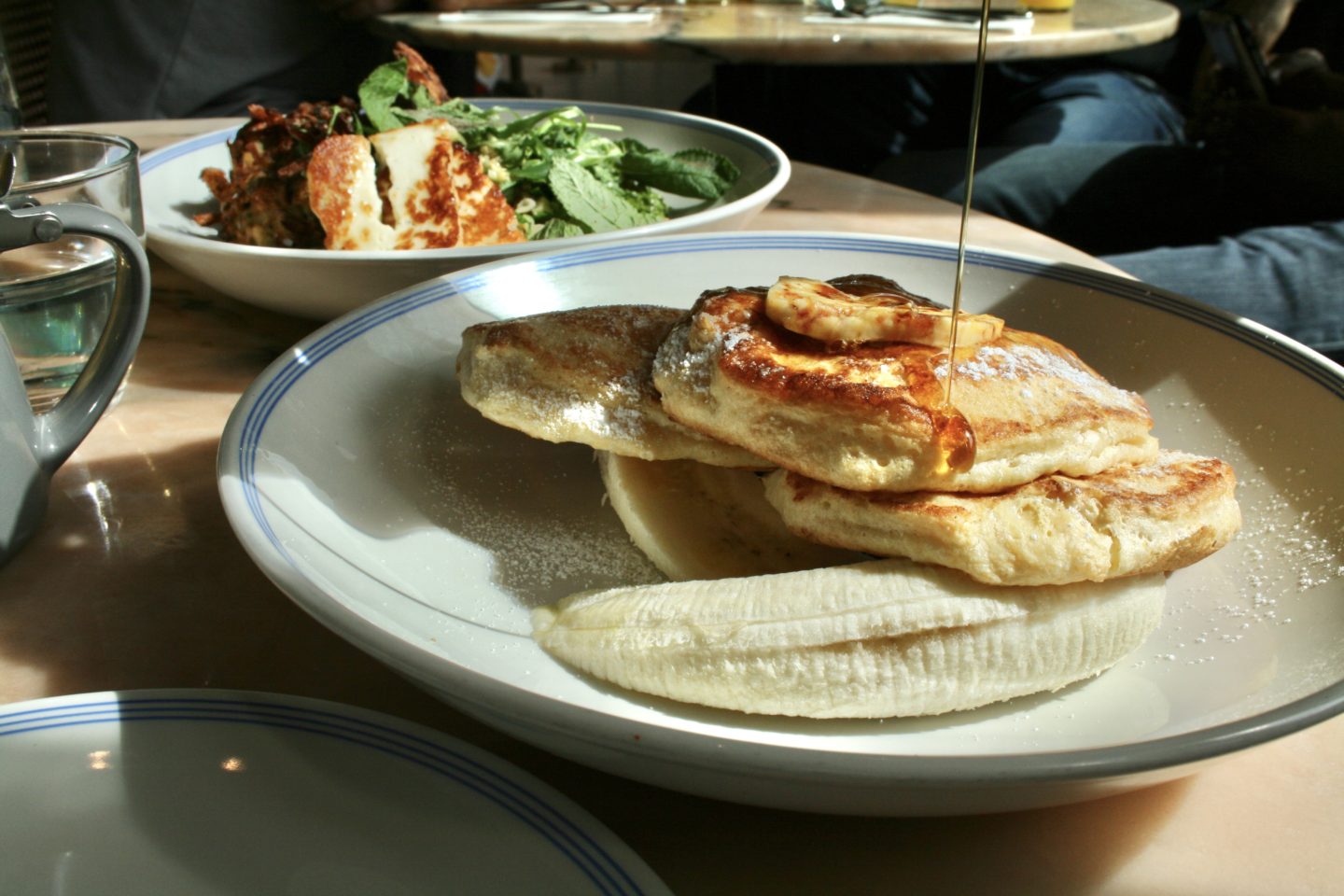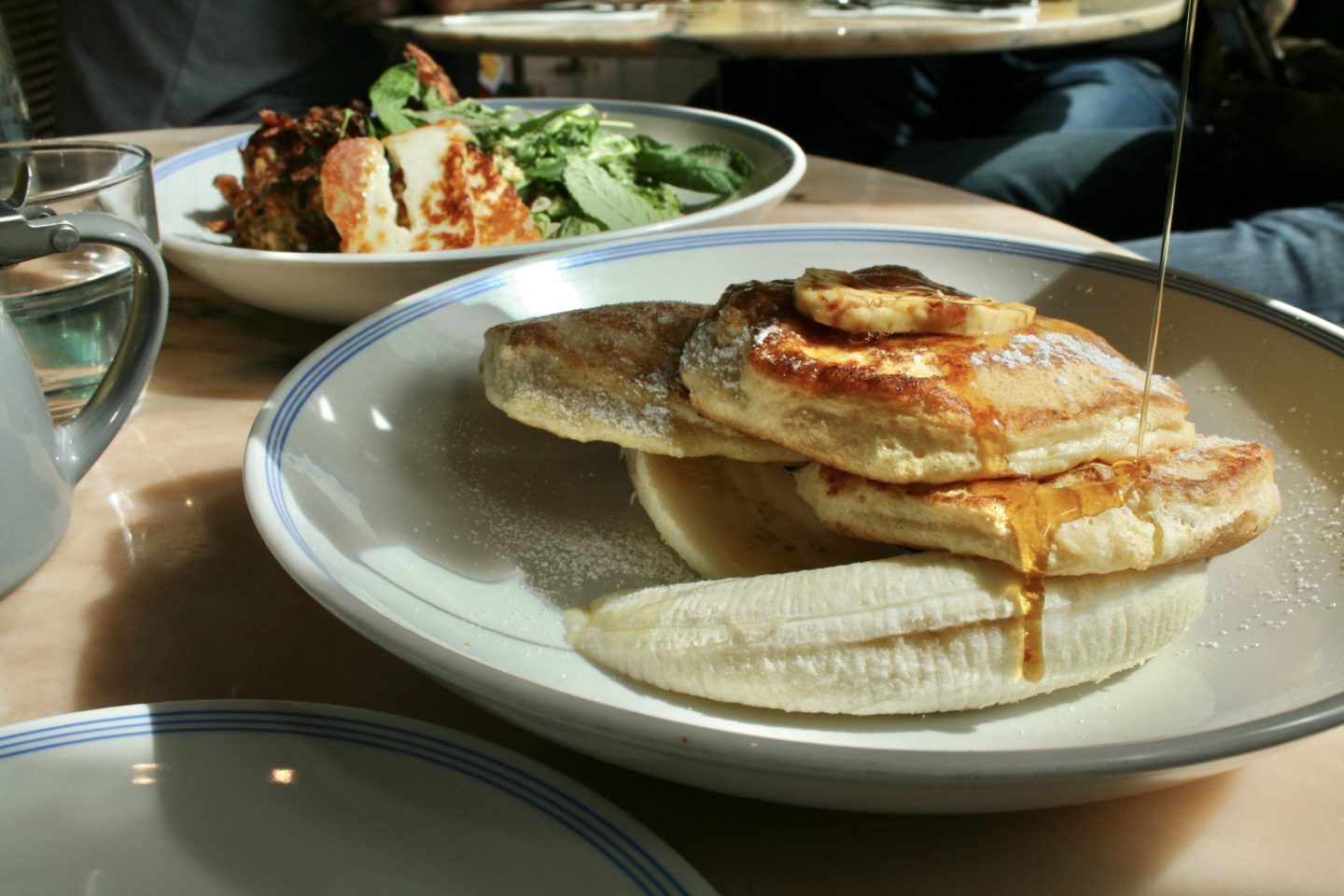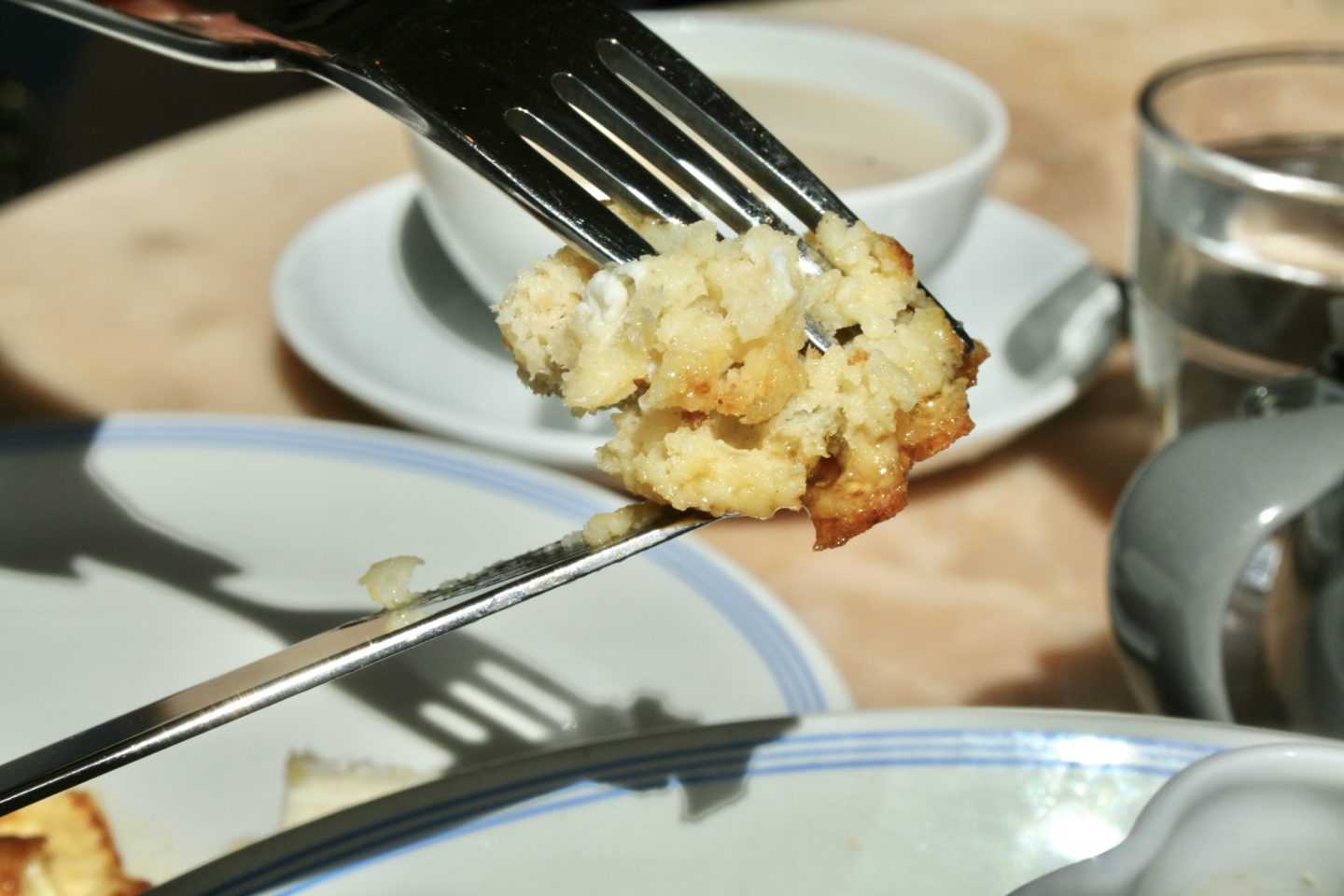 The icing on the cake was definitely the honeycomb butter. Honeycomb in butter?? What a magical combination! It was truly mouth-watering witnessing the sweet butter melting onto and trickling down the pancakes. It also blended well with the additional syrup provided. Cheeky? I know! I couldn't resist this one, guys!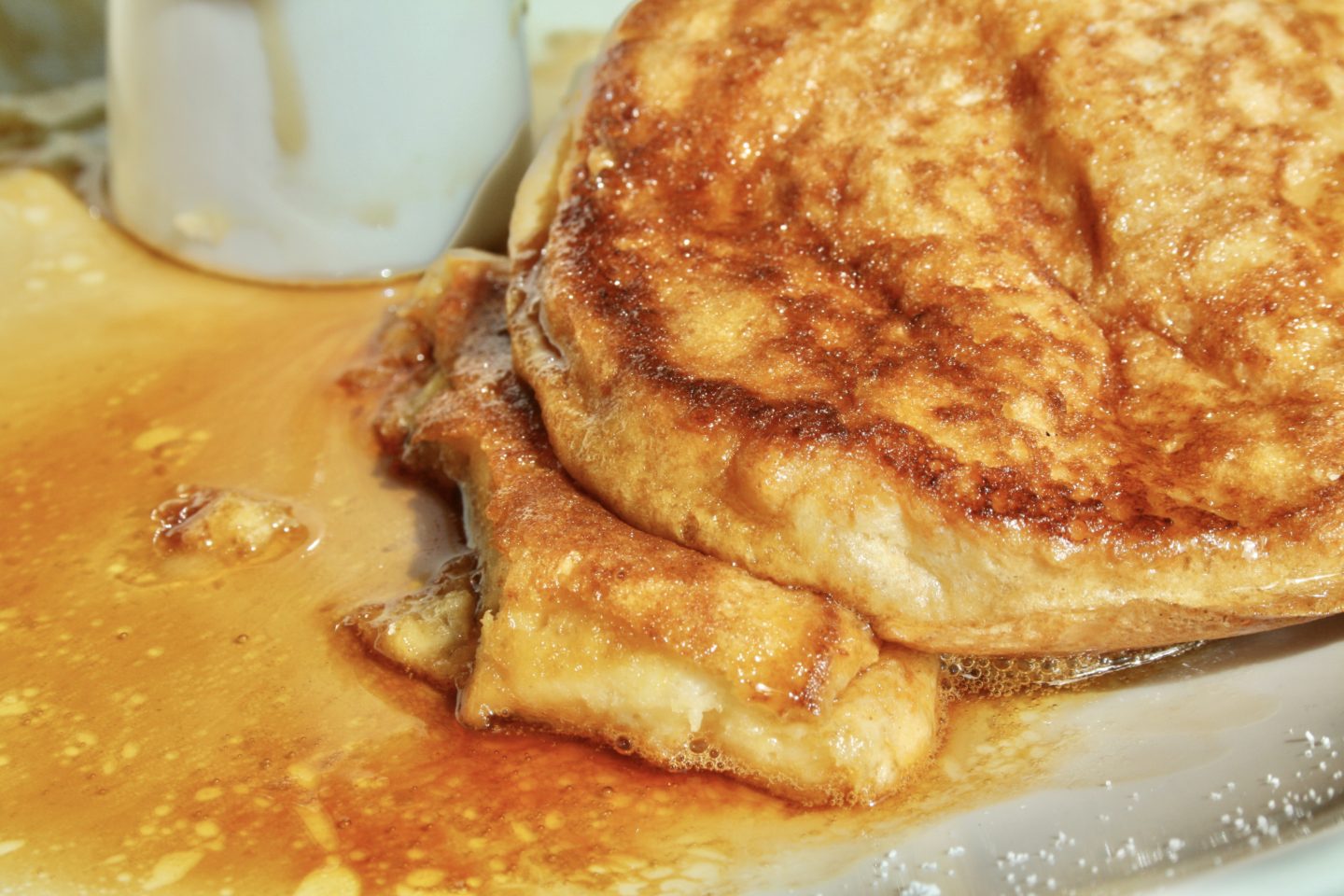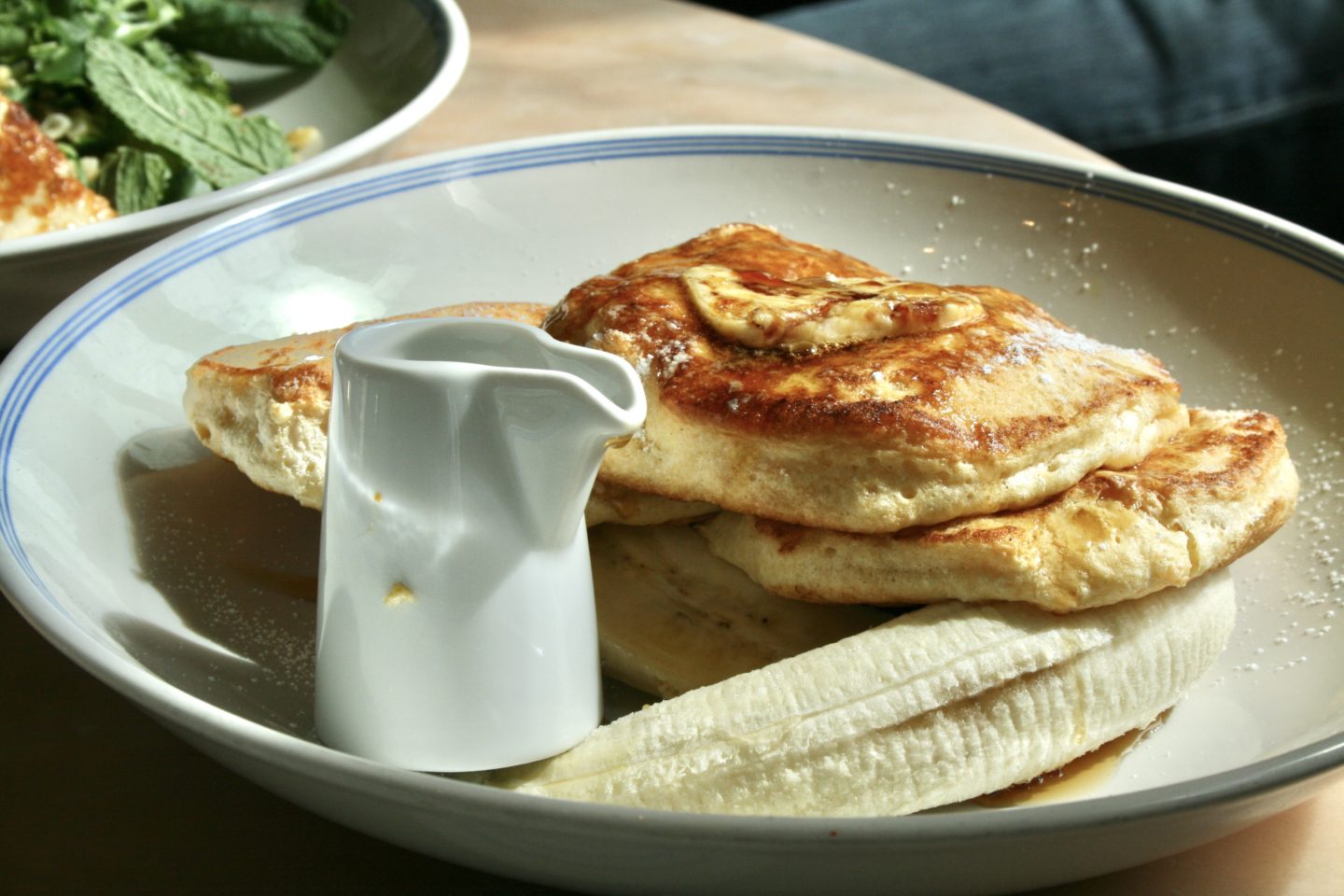 The banana was the healthy touch, I suppose haha. It went perfectly with the other flavours and textures and definitely made the dish hit the spot!
Overall, I would give this dish a 9/10. No joke, it was that good!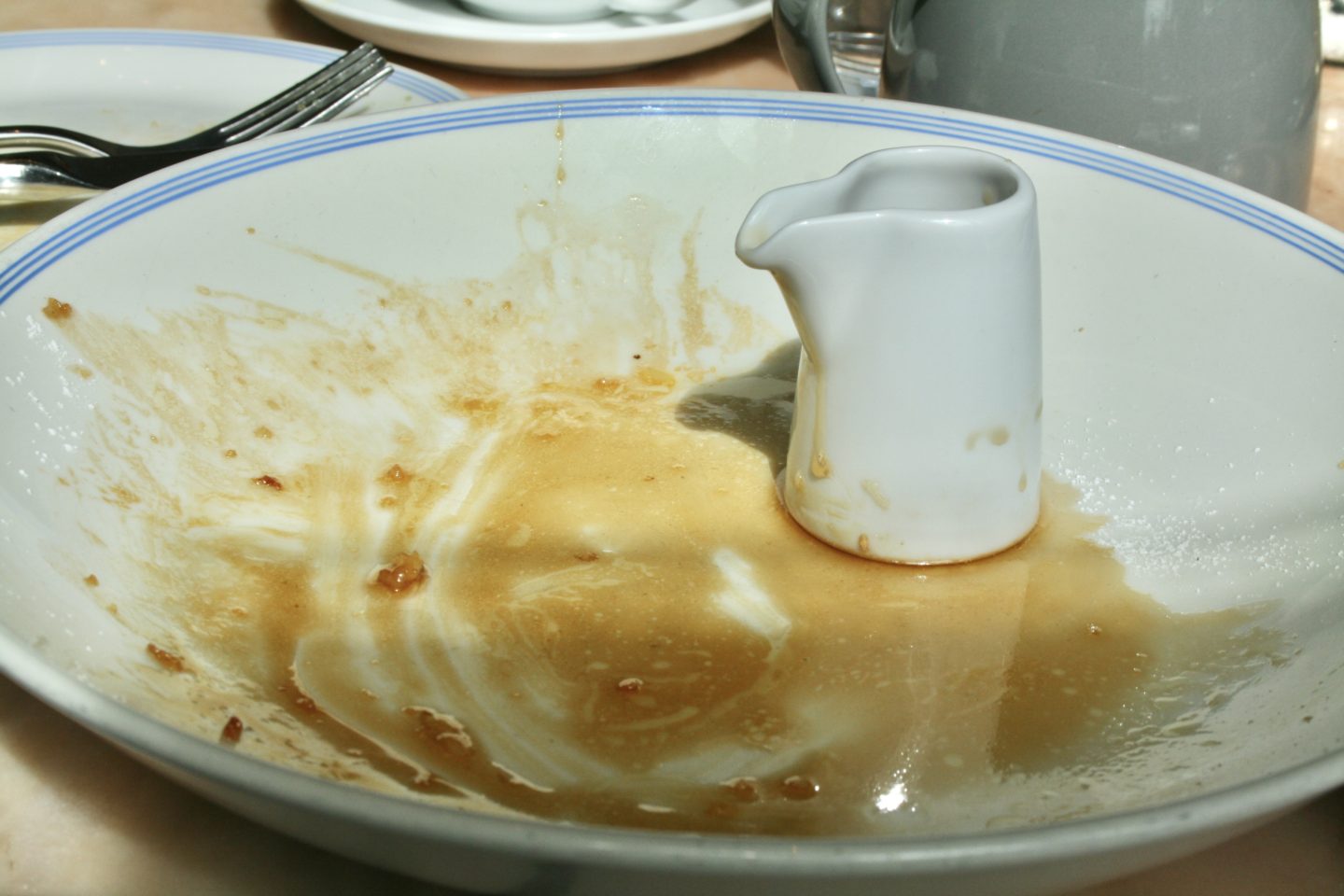 ---
I tried the famous courgette fritters with halloumi, siyez and shredded kale salad with zhoug. I know what you're thinking. Translation, please? Don't worry, I gotcha. So this dish consisted of courgette fritters (fried, shredded courgettes balls), with siyez (a wheat grain), shredded kale (who doesn't know what kale is these days? haha) and zhoug (a coriander, parsley, clove and chilli paste). It also had a sort of yogurt sauce with it? I couldn't really decipher the flavour but it was a white, creamy, yet light sauce.
Now, the two previous times I had been there I tried to order the fritters but on both occasions, they were sold out! My curiosity about this dish heightened and one day, I decided to go there early, at breakfast time, just so that I could get my hands on this on-demand dish. Did it meet my expectations? Unfortunately, not entirely.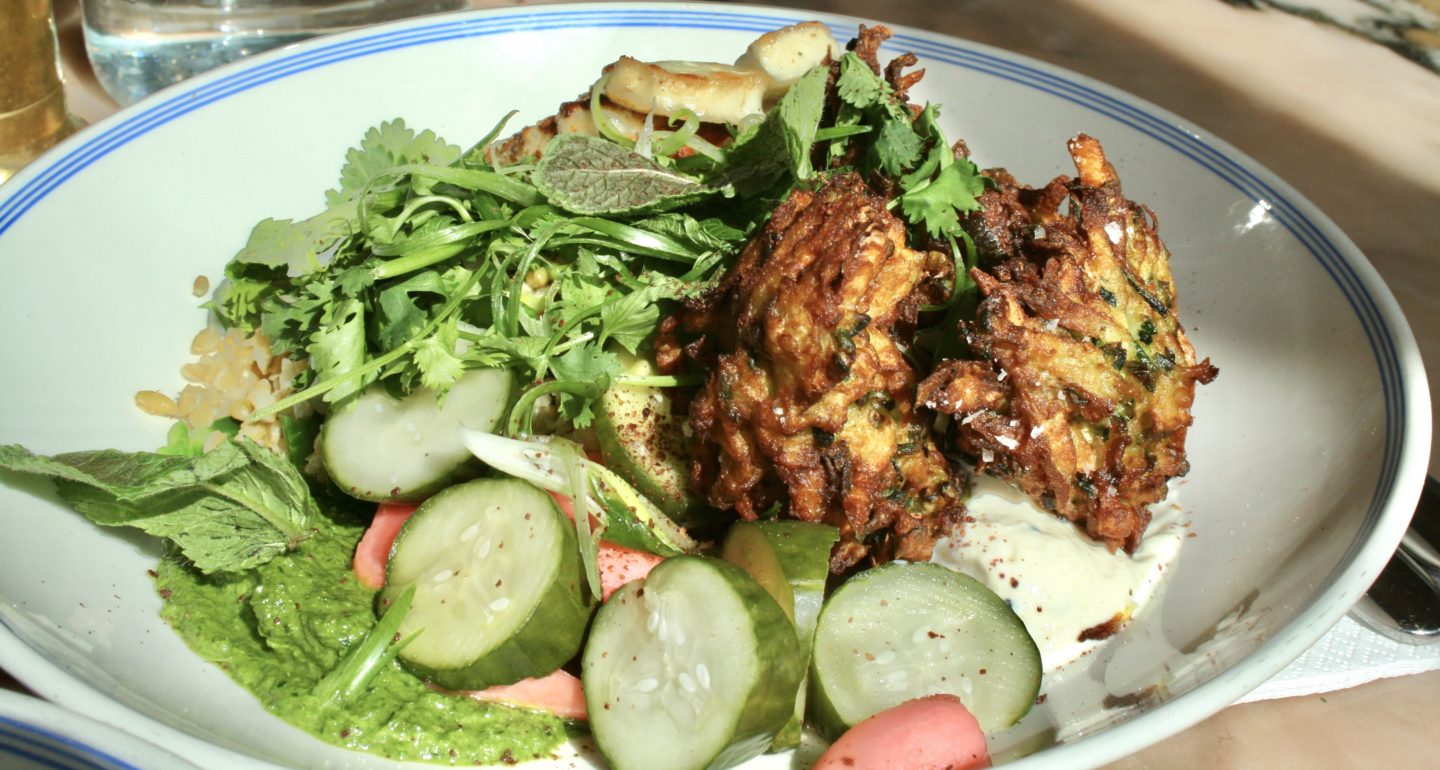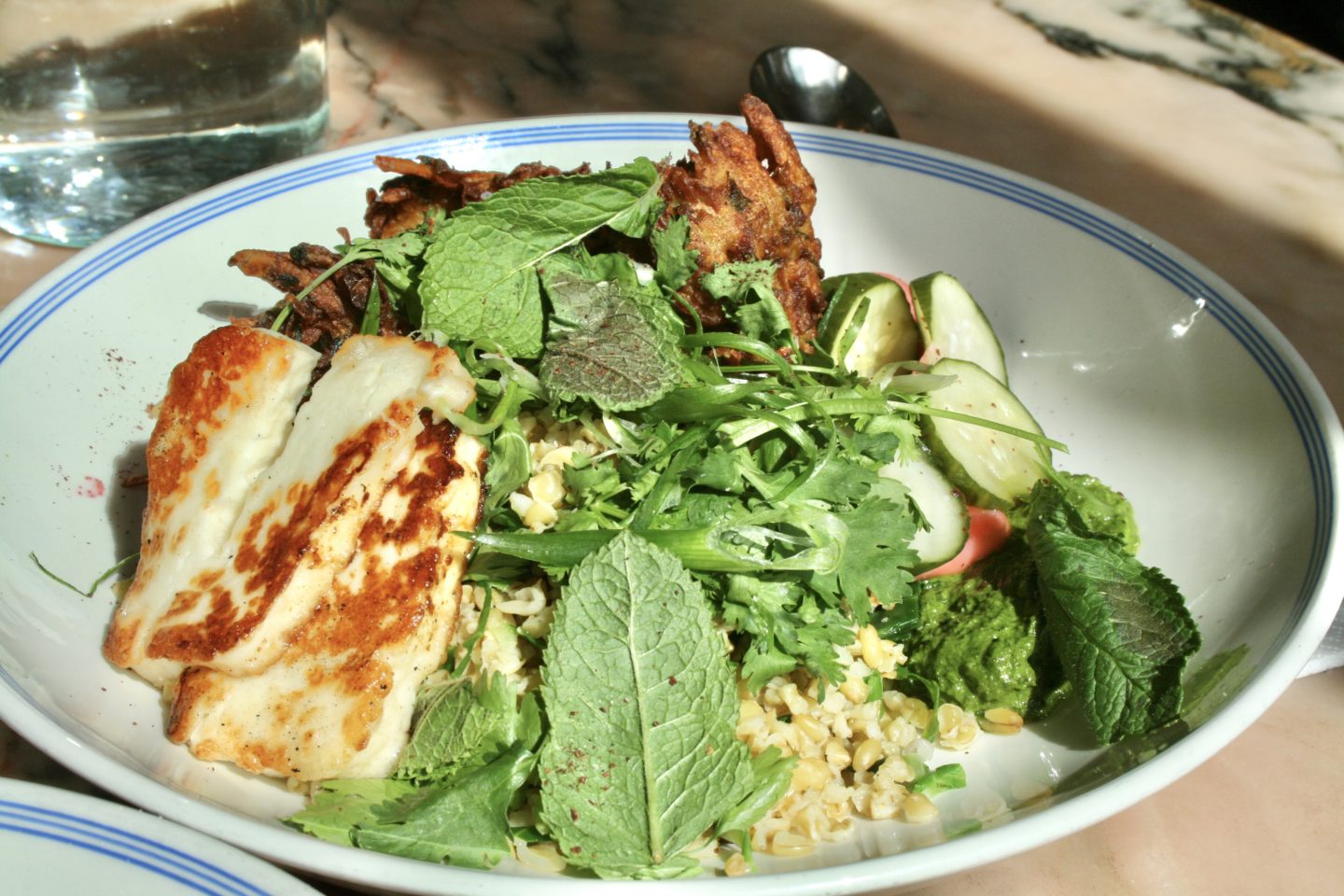 The best thing about the dish was, honestly, the halloumi. Usually, halloumi is quite rubbery but this was far from. It was definitely the best I have ever tried and it tasted almost like they fried it in butter! Perhaps that's what made it taste so good! The actual fritters were okay. There was not that much seasoning on them but they were simply okay. I wasn't the biggest fan of the siyez salad as although I loved the fresh coriander in it, I didn't really care than much for it. Just being honest. The zhoug was nice and I honestly wish there was more drizzled all over the salad as there was just a tiny dollop on the side.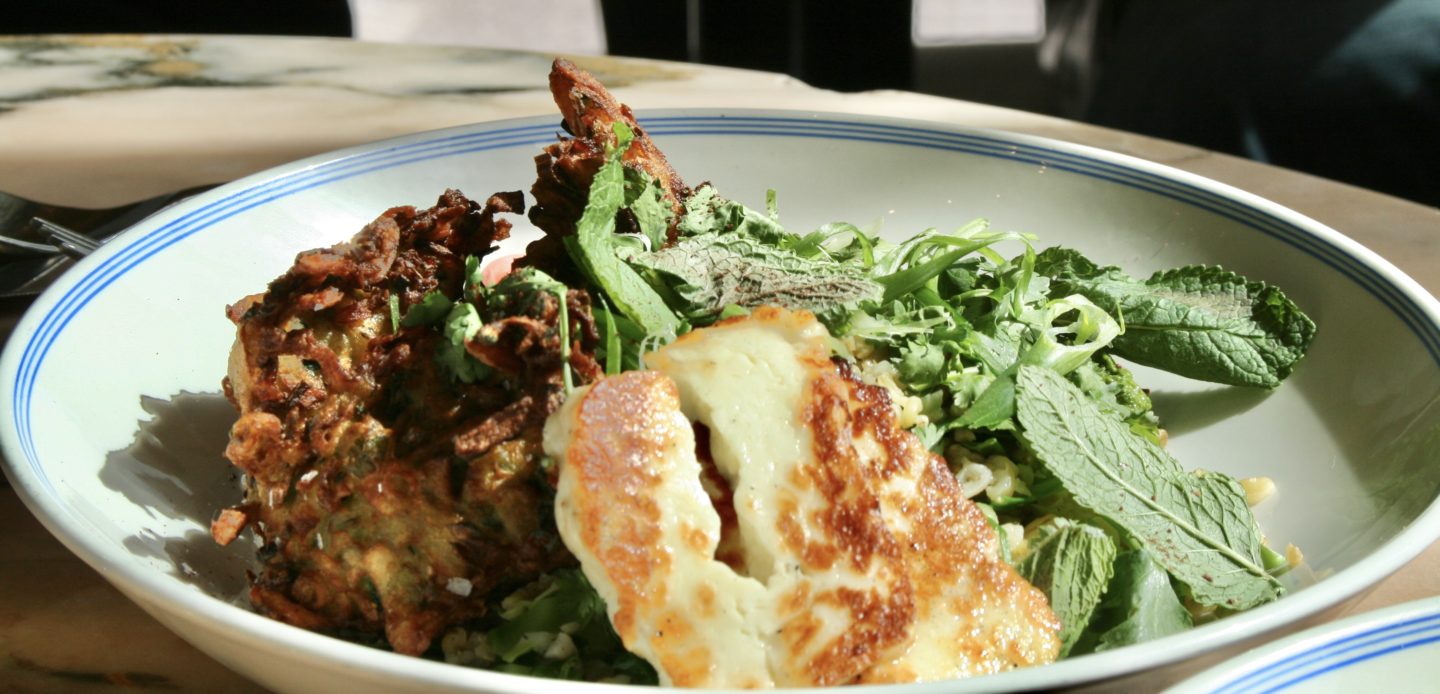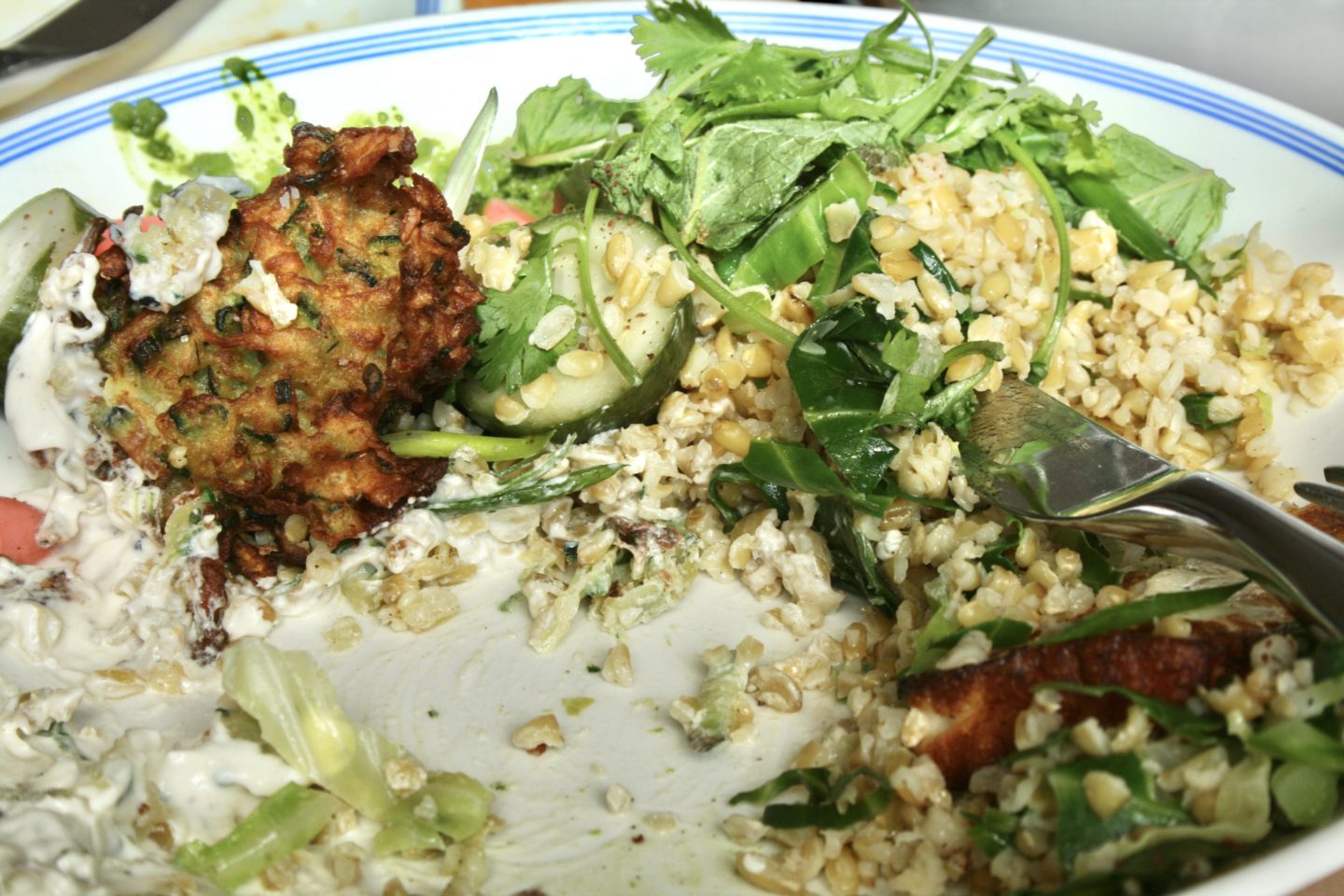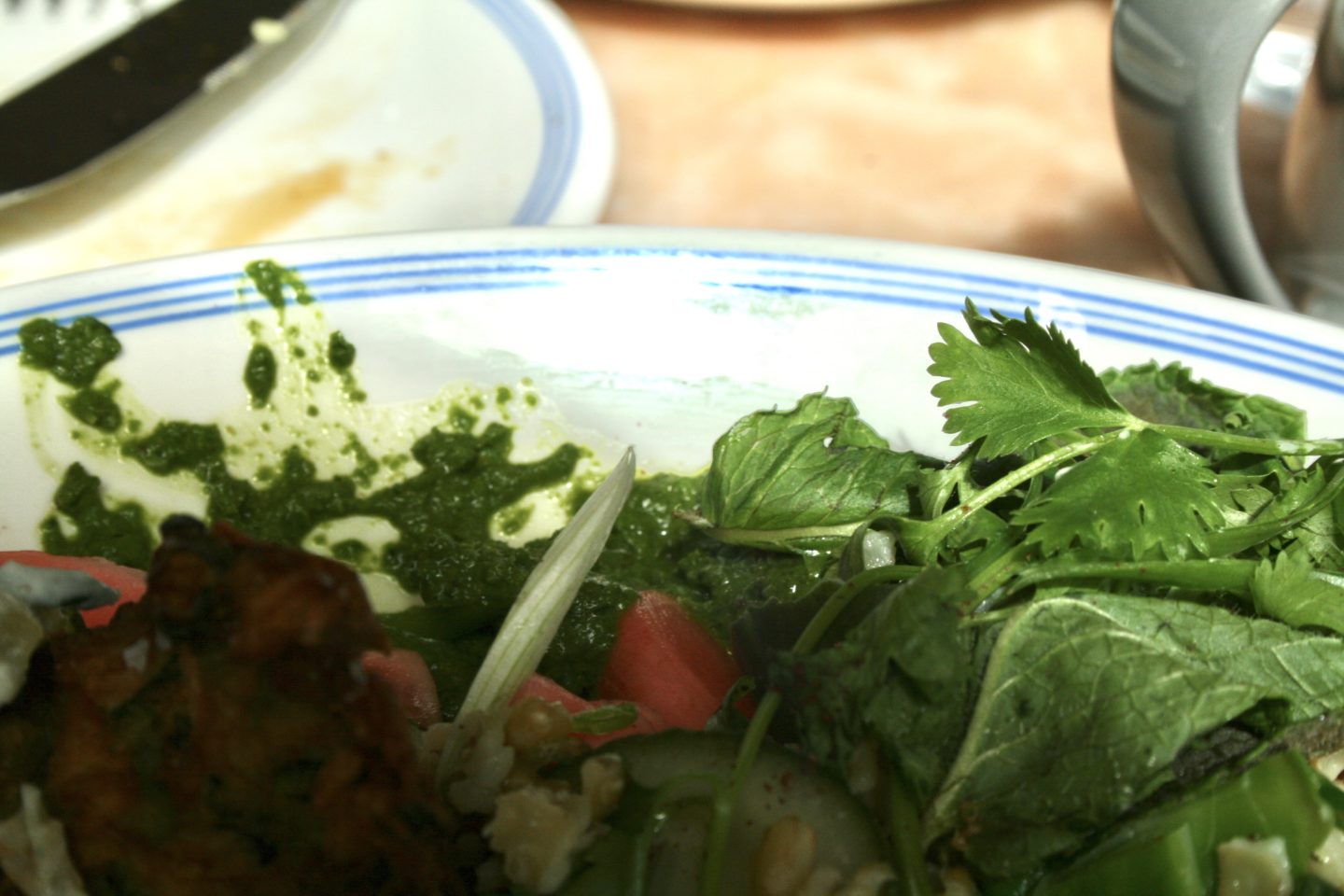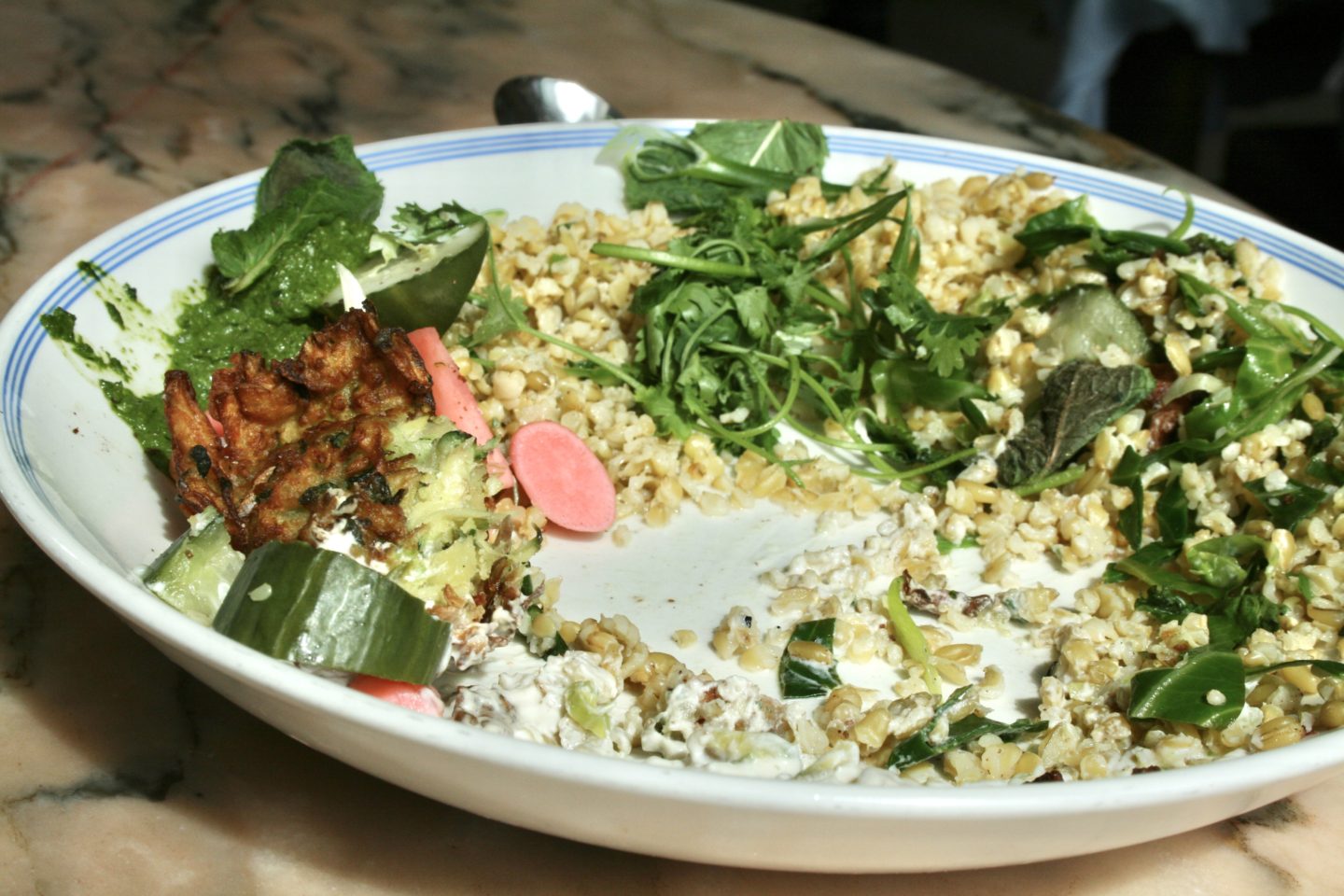 Overall, the dish was certainly light, fresh and tasty but it was not the most delicious thing I've tried. It didn't meet my expectations despite the buzz around it so I would have to give it a 6/10.
---
Now, onto my favourite dish on the menu! This dish exceeded my expectations especially because it was a second choice after I discovered that they ran out of courgette fritters. This dish is the raw tuna and avocado poke, brown rice, cherry tomatoes, pickled cucumber and sesame. When I say this dish was one of the tastiest meals I have ever tried, I AM NOT KIDDING! The flavours were so fresh and on point! Everything in that dish was absolutely delicious!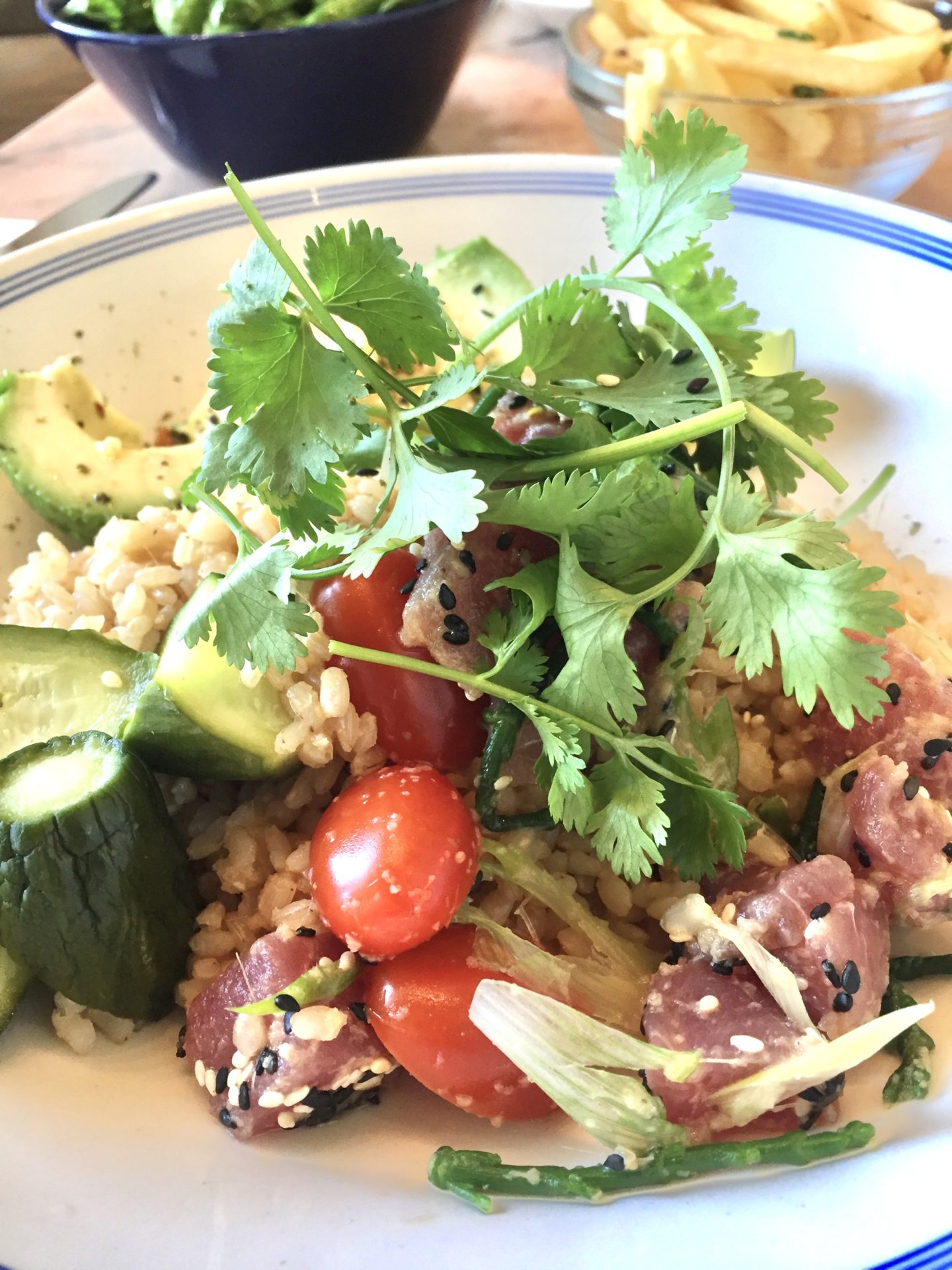 Starting with the brown rice. I took a fork-full of brown rice simply to prepare myself for the poke centrepiece but to my surprise, the rice was on par with the poke! I know what you're thinking. "Brown rice? Surely it was hard and tasteless". Well, not this one! I don't know what they used to season it but it had a sweet and sour flavour that made me want to eat bowl-fulls of it! It was not hard and I think it's fair to say that I fell in love with it.
The poke was delicious as well. Not much to say about it actually because poke is just one of those things that is almost always the same wherever you go. What distinguished it was the delicious flavour and its ability to blend well with the other flavours in the bowl. The salad, pickled cucumber and sesame all went well with the dish and made it an all round 9/10! I can't wait to have it again!
---
The final dish I had to myself was the fragrant chicken, brown rice and mushroom broth. This was also a second option after the second time I was told that the fritters were sold out. I loved the broth, initially. The taste was infused with Asian flavours such as one of my favourites, coriander. It had a sour taste to it and the first mouthful I had made me say "oooooo".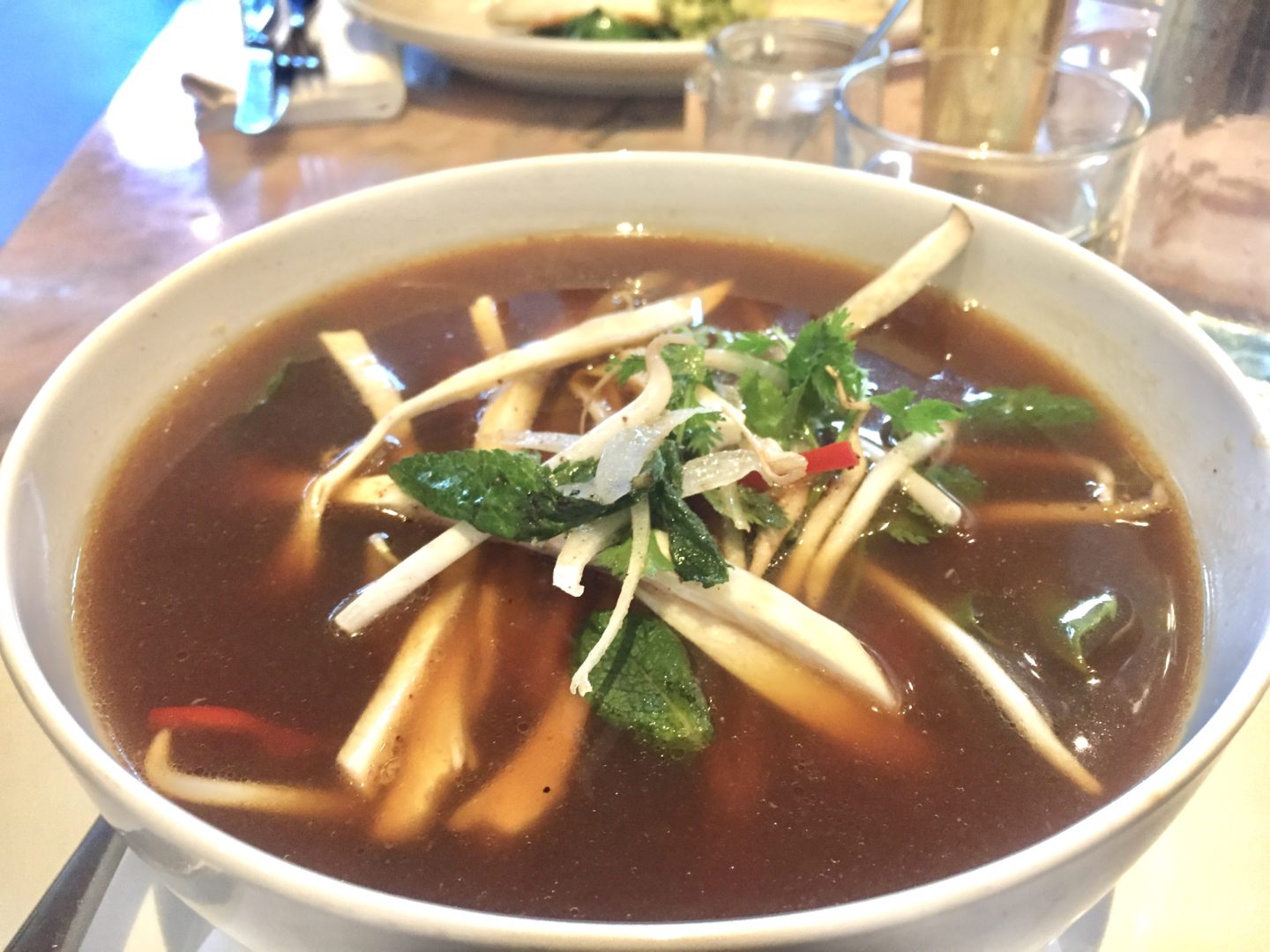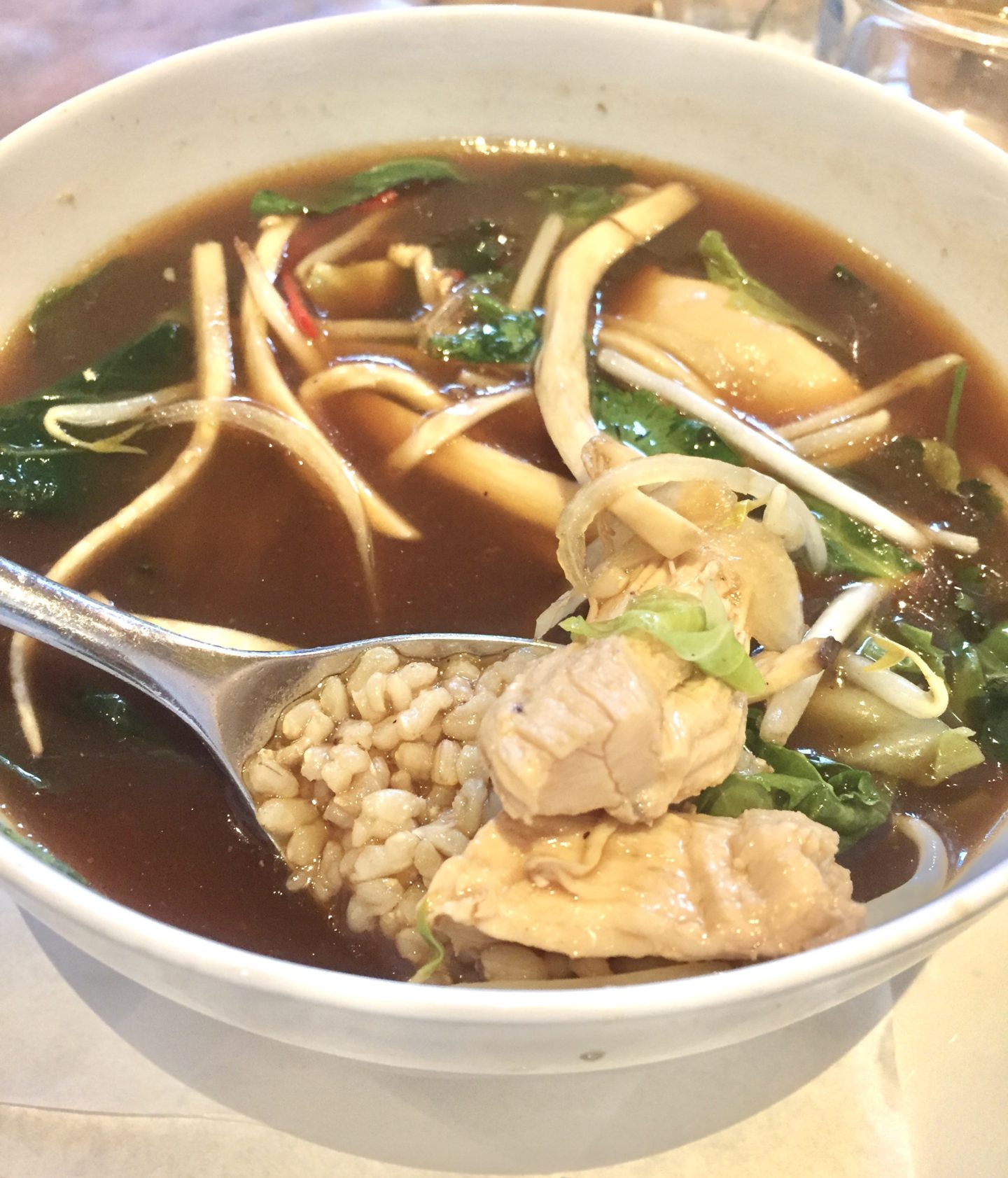 However, after a while, I got bored of the the flavour as the bowl was massive! I didn't feel like the brown rice went well with the soup and I would have preferred some noodles which would have been more fitting. The pieces of shredded chicken in the dish were nothing special. They were great only because they added some body to the very light soup.
Overall, I liked the soup but I would have preferred a smaller portion as a starter with some noodles as well as some more succulent pieces of chicken. I would give it a 5/10.
---
Another dish I tasted (off of my friend's plate) was the sea bass with spinach and citrus salad. This was quite disappointing as for the price (£16.50) it was not filling and definitely required some fries for an additional cost. (Btw the fries are delicious). It was quite tasty but probably not as exciting as other dished on the menu so I would give it a 5/10.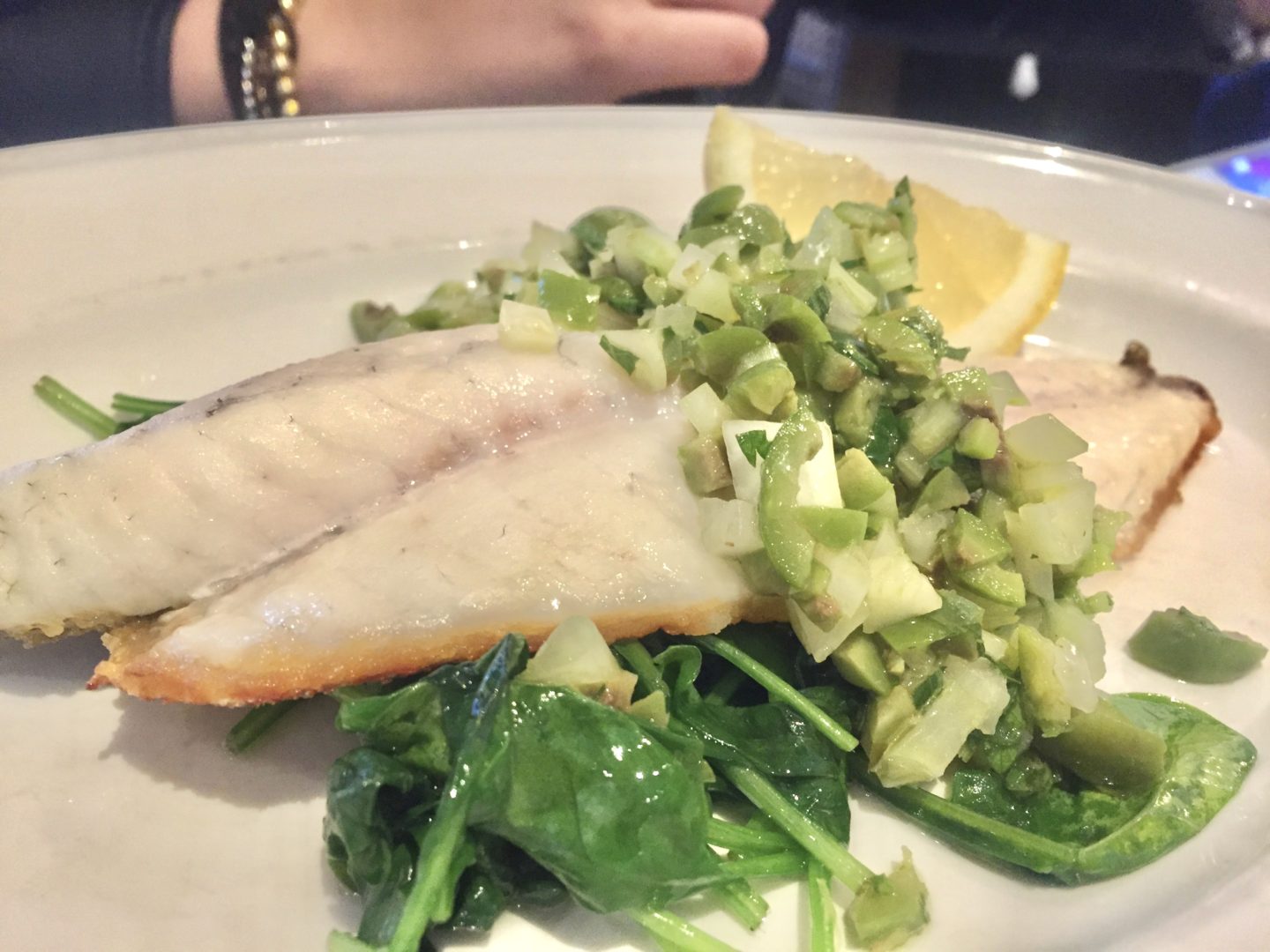 ---
So what's next on my list for the Granger & Co. menu? Definitely the sticky chilly belly pork, soft shell crab or the sambal chicken salad. Overall, I would definitely recommend going to Granger & Co. as its menu is filled with light, fresh, delicious, healthy and unique options. It has slowly become one of my favourite restaurants in London and I can't wait to visit the other branches. I would give this restaurant a rating of 8/10.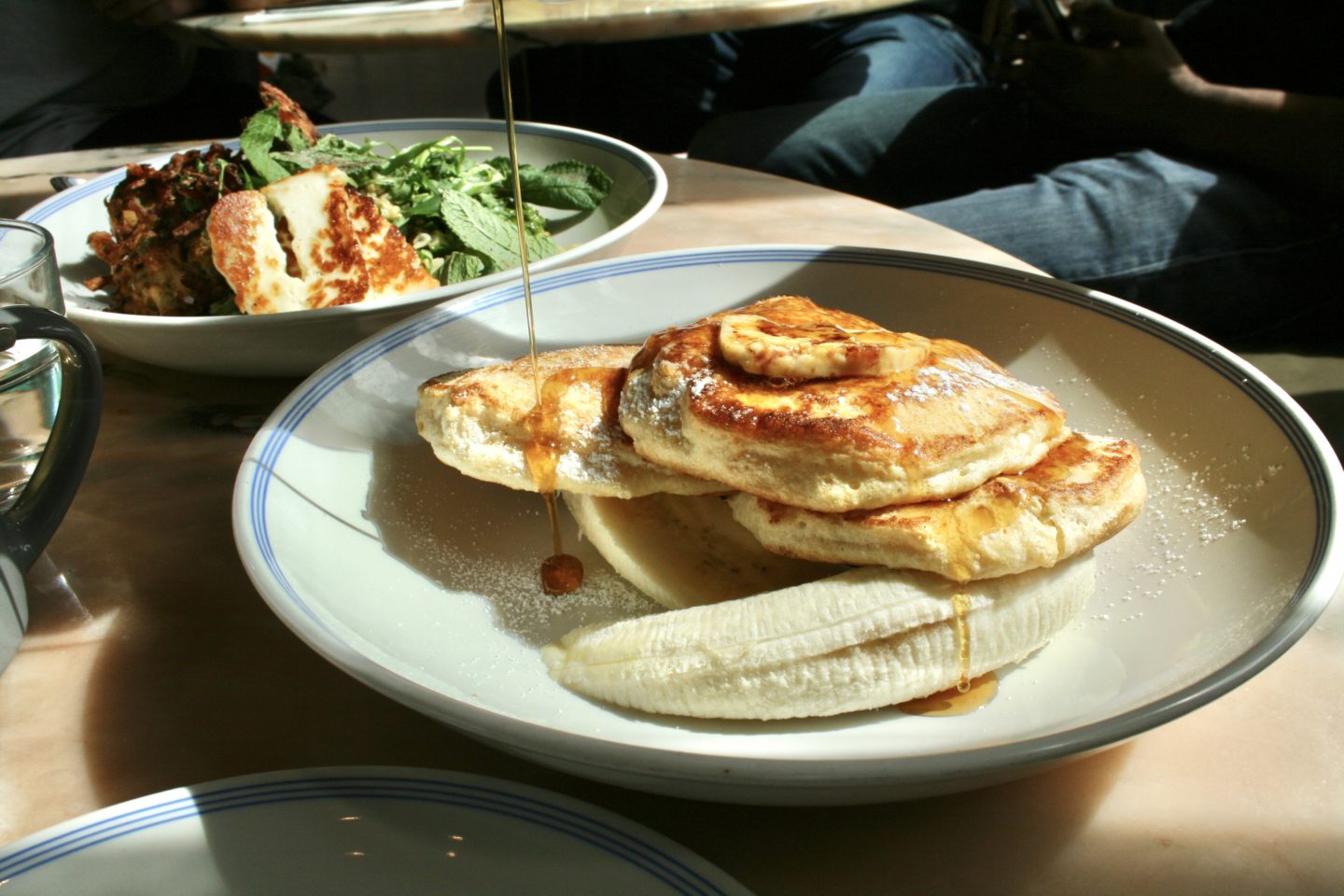 ---
I hope you enjoyed reading this post and I hope you pay a visit to Granger & Co..
Don't forget to subscribe to be first to read more exciting posts in my Come Eat Healthy With Me series and more!
Bry xo