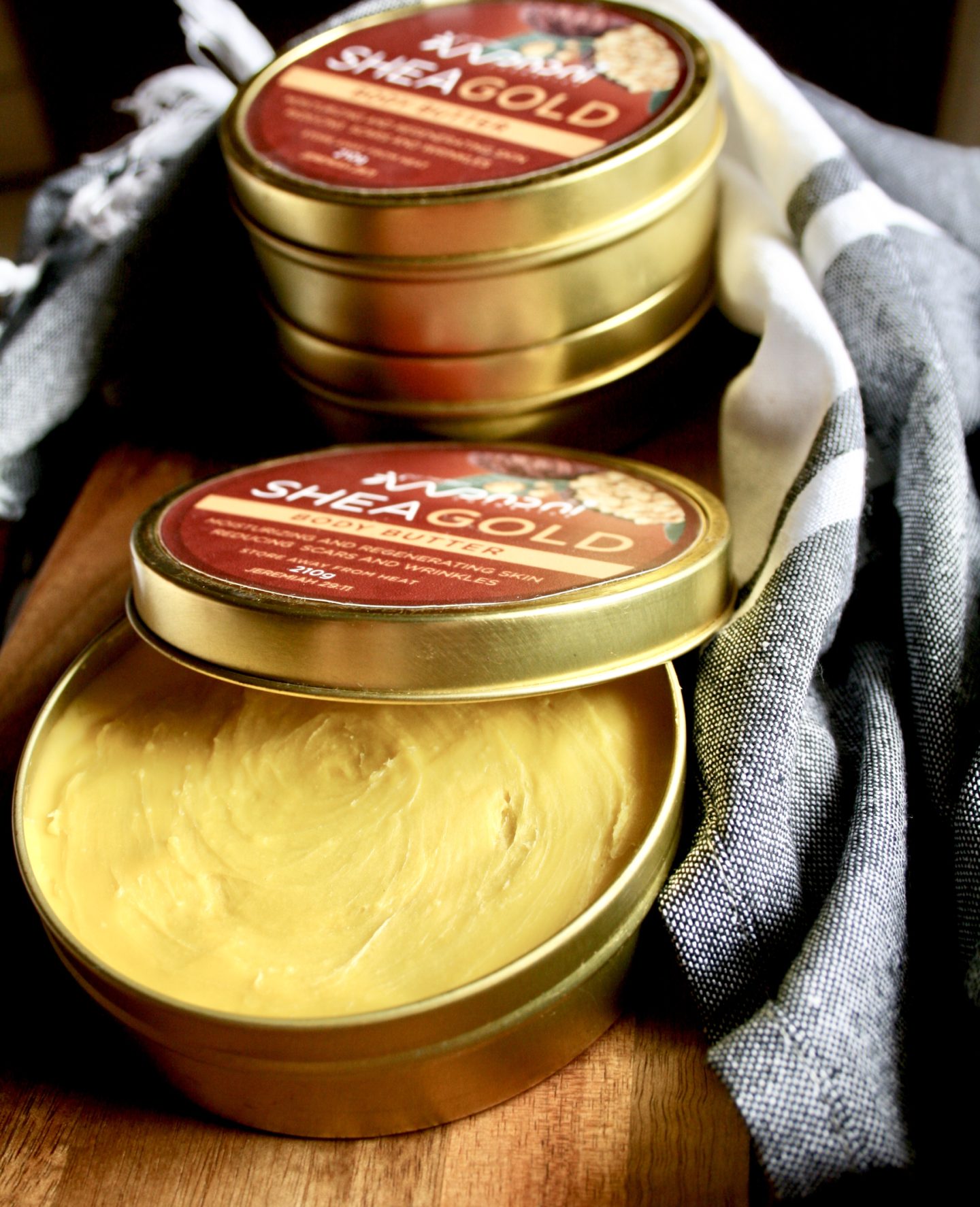 I must admit that one of my favourite things to do after a workout is to pamper myself with the best body products possible that will sooth my joints and muscles. What better product to use than the natural and organic Wononi Shea Gold Body Butter? This rich body butter is honestly MY FAVOURITE body product ever as it not only leaves my skin feeling as soft and looking as radiant as ever but it has also helped reduce the hardness of my hands after some heavy weight lifting. If you're a weight lifter like I am, you will be familiar with the clamy, hard texture your skin starts to develop after lifting weights on a regular basis. Well, if this is you then I would definitely recommend getting this body butter as it will reverse any signs of scarring or skin discolouration. Additionally, it reverses premature signs of ageing!
The butter is made of four organic and all natural ingredients sourced in Ghana– shea butter, coconut oil, olive oil and almond oil-which are all hand-picked! One of the biggest reasons why I love the body butter is because the brand "encourages people to embrace their skin, heritage and self." Wononi or WƆ NƆ Ni is Ga (a Ghanaian language) for 'It Is For Us' or 'Things That Are Indigenously Ours'. The name, therefore, encourages Ghanaians to use skin care products that are indigenously ours, natural and don't contain large amounts of alcohol or bleaching agents. The product can also be used on all skin types including new born babies as it is completely natural!
This product is one that I would 100% recommend you purchase either for yourself or for a loved one. I use it all year round but especially in the cold, dry winter months when my skin craves moisture. It not only makes my skin look and feel great on the outside but it makes me feel great on the inside knowing that I am treating my body to the most natural ingredients possible. For more information about Wononi or to purchase the product, check out their website and follow their social media at @wononicosmetics . Trust me, you will not regret this purchase!
Giveaway!
I am giving one lucky person the opportunity to win a tin of this luxurious product! Here is how you can win today:-
Subscribe to my blog.
Follow my Instagram account (@bestbodybybry)
Follow Wononi on Instagram @wononicosmetics
Write "done" in the comments section of this post or under any of the Instagram posts promoting this giveaway!
The winner will be announced on the 15th of October.  Good luck!
---
I hope you liked this post and I hope you give this product a try! Treat yo' self!
Don't forget to subscribe and follow my social media (@bestbodybybry).
Bry xo